IYA2009 Features

100 Hours of Astronomy: The event 400 years in the making has just started!

100 Hours of Astronomy: The Cosmic Diary Blogs : Check the Cosmic Diary blogs for 100 Hour of Astronomy!

100 Hours of Astronomy: worldwide astronomy marathon set to break records:

Cosmic Diary: Time travel at Greenwich: The IYA2009 Cosmic Diary project seeks to utilise blogging to educate readers about astronomy and those that conduct it. To that end, the Royal Observatory Greenwich has come up with a rather novel blog of its own.

Grants Available for IYA2009 Projects: The IAU and UNESCO are pleased to announce a call for grants proposals for IYA2009 projects and activities. This call for proposals is targeted at providing seed funding and basic support in order to stimulate astronomy activities in developing regions.

IYA2009 logo has been blasted off into space!: On 15 March, the Space Shuttle Discovery launched toward the International Space Station. On board was Japanese astronaut and IYA2009 supporter Koichi Wakata. He took with him a special Official Flight Kit prepared by the IYA2009 Japan Committee, proudly displaying the IYA2009 logo.

Star Walk: Astronomy for Everybody: You are getting ready for the 100 hours of Astronomy event, you have an iphone, you love stargazing but you haven't tried doing it with StarWalk yet! If this sounds exactly like you, we have a great initiative you definitely should take part in.

Special telescope package and online seminar now available: IYA2009 is attracting more people to invest in telescopes to observe the heavens. But buying an instrument is one thing… using it can be quite another! Fortunately, the "Astronomie-Startpaket" is available on Amazon's German site, giving a complete package for budding amateur astronomers.

A Worldwide Astronomy Marathon: Grab your scopes and friends and head outside! Early April will be amateur astronomy's time to shine for the International Year of Astronomy 2009.

Planetarium shows ready to celebrate IYA2009: Three new planetarium shows are ready to entertain and educate the public! Specially produced for the International Year of Astronomy 2009, the shows are sure to delight their audiences.
Showing 161 to 170 of 250
Search IYA2009 Features
---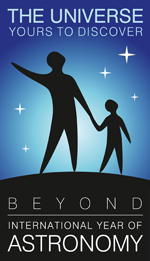 National Nodes: 148
Organisational Nodes: 40
Organisational Associates:33
National Websites: 111
Cornerstone Projects: 12
Special Task Groups: 11
Special Projects:16
Official Products:8
Media Partners:22