IYA2009 Features

IYA2009 has been declared initiative of interest by the Paraguayan government: IYA2009 has been declared initiative of interest by the Paraguayan Ministers of Tourism and Culture.

Comet Lulin: one to watch in 2009: The bright Comet Lulin is expected to put on an excellent show in our night skies this month.

First IYA2009 Patron: Mani Bhaumik is the first IYA2009 Patron.

President of the Portuguese Republic : Prof. Dr. Aníbal Cavaco Silva presides over the Portuguese IYA2009 Honour Committee.

Official IYA2009 Songs: New IYA2009-themed songs are now available to download, ranging from the official anthem used in the trailer, to the opening of the 365 Days of Astronomy podcasts.

IDA Nightscape: IYA2009 Special: "Looking up at the night sky from a dark site, one cannot help being awed. Countless stars spread from horizon to horizon, gently twinkling as they have done for an eternity. Turning a telescope to this vista for the first time is, for many, a life-changing experience. The cosmos never seems the same again."

Astronomy & Astrology: From Conjunction to Opposition: A CAPjournal article by Daniel Kunth

CAPjournal #5 is out! : Welcome to the first CAPjournal issue of 2009.

Hubble's Next Discovery - You Decide: People around the world can vote to select the next object the Hubble Space Telescope will view. Choose from a list of objects Hubble has never observed before and enter a drawing for one of 100 new Hubble pictures of the winning object. The winning image will be released during the 100 Hours of Astronomy.

IYA2009 Opening Event in Madrid today: The IYA2009 kicks off today in Spain. Watch the live stream starting 18.00 CET
Showing 191 to 200 of 250
Search IYA2009 Features
---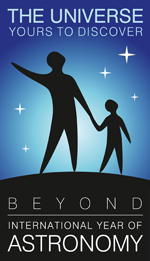 National Nodes: 148
Organisational Nodes: 40
Organisational Associates:33
National Websites: 111
Cornerstone Projects: 12
Special Task Groups: 11
Special Projects:16
Official Products:8
Media Partners:22