The World at Night: one people, one sky

The World at Night (TWAN) will create and exhibit a collection of stunning photographs and time-lapse videos of the world's most beautiful and historic sites against a night-time backdrop of stars, planets and celestial events. These images will present the night sky to the public in an accessible and understandable manner. The sky rises above all the landmarks and symbols of different nations and regions creating a bridge to understanding and friendship. When borders vanish, political and cultural differences become irrelevant. The universal nature of astronomy provides the means to connect people worldwide through this common interest. TWAN's parent organisation, Astronomers without Borders, has several projects designed to work towards this goal. TWAN is an innovative new approach to expanding this global perspective.

TWAN brings together photographers, astronomers and organisations worldwide to create a new international team. Material released by TWAN will include photographs, descriptions of the subject sites, the site's historical, cultural or environmental significance, how TWAN was conducted, how TWAN affected participating photographers and related issues of global importance such as peace, ecology and light pollution. TWAN will cooperate with the IYA2009 Cornerstone projects to supplement their outreach efforts and willl seek venues for a worldwide exhibition and educational events in 2009.
Go to the TWAN website.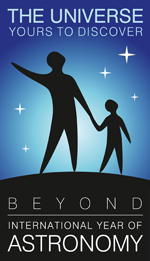 National Nodes: 148
Organisational Nodes: 40
Organisational Associates:33
National Websites: 111
Cornerstone Projects: 12
Special Task Groups: 11
Special Projects:16
Official Products:8
Media Partners:22