Millions of Earths

A 52 minute documentary.
Our planet Earth is increasingly at stake in all respects. Research carried out on other planets in space can develop knowledge of our own world and its protection. It is in this respect that the film Millions of Earths falls within the framework of IYA2009.
For some years now, an amazing quest has set people's spirits on fire: who will be the first person to find a planet similar to Earth, where life like ours might exist? Looking for planets like Earth outside the Solar System allows us to learn about the origin of life, to have a better understanding of how we have come to live on our planet, and also to detect other environments favourable to living creatures.
Planet hunters are in a class of their own. The aim of this film is to follow them closely in their thrilling research, relying on human qualities in order to share their dreams and discoveries. The film will focus on current research of planets similar to the Earth. The community of scientists specialising in extra-solar planets is ruled by solidarity, which implies sharing all discoveries made. However, it is not free from competition.
More information: http://www.betaprod.fr/spip.php?page=prodencours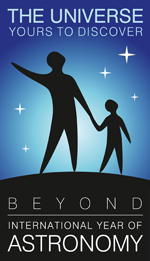 National Nodes: 148
Organisational Nodes: 40
Organisational Associates:33
National Websites: 111
Cornerstone Projects: 12
Special Task Groups: 11
Special Projects:16
Official Products:8
Media Partners:22