IYA2009 Features

The Great Look Up!: The Great Look Up has been created to do one thing; get people to look up at the stars.

Website launch for Galilean Nights! : Preparations are well underway for the new IYA2009 Cornerstone project, Galilean Nights. Taking place between 22-24 October 2009, this initiative will see thousands of people around the world engaging in practical astronomy activities, bringing the wonders of the Universe to the public

Japanese IYA2009 song is a smash hit: IYA2009 is enjoying great success in Japan, in part due to popularisation campaigns such as astronomy book fairs, official movies, and even cakes. The idea was raised to supplement these with an IYA2009 song, and this has now come to fruition.

Google celebrates IYA2009: To mark the 400th anniversary of Galileo demonstrating his telescope to Venetian lawmakers, web giant Google has changed its logo to show this revolutionary instrument.

400 years of telescopes being used for outreach: 25 August is an important day for IYA2009 as 400 years ago Galileo conducted the first astronomical outreach activity when he met with policy and law-makers from the Venetian Republic.

Women in Astronomy and Space Science 2009: Meeting the Challenges of an Increasingly Diverse Workforce (Oct 21-23, 2009, College Park, MD, USA)

Shoppers Across the U.S. to Experience "The World at Night": An exhibit of stunning photographs of the night sky as viewed over many of the most beautiful natural, historic and cultural landmarks in the world is being shown at 24 shopping centers across the United States from now through November 8.

Twitter Perseid meteorwatch set for August 11 and 12: One of the annual highlights of stargazers' calendars is the Perseid meteor shower. Occurring every August, they regularly astound with their bright trails lingering in the night sky.

IYA2009 breaks another record: Longest canvas in the world painted at the Oceans festival in Lisbon, under the theme Oceans and Astronomy. In this creative event that was open to families, a 4.8 km long canvas was painted with the help of many enthusiastic volunteers.

Skyway 09 - International Light Festival: International Light Festival to take place in Poland in the framework of IYA2009
Showing 81 to 90 of 250
Search IYA2009 Features
---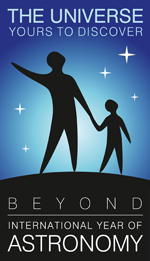 National Nodes: 148
Organisational Nodes: 40
Organisational Associates:33
National Websites: 111
Cornerstone Projects: 12
Special Task Groups: 11
Special Projects:16
Official Products:8
Media Partners:22