IYA2009 Features

IYA2009 in Brazilian Carnival: Unidos da Tijuca, a samba school from Rio de Janeiro, Brazil, themed its parade "astronomy" in celebration of the IYA2009.

Discover the many wonders of Astronomy with IYA2009 Media Partner Springer: Special discount during the International Year of Astronomy 2009.

Happy Birthday Galileo Galilei: Galileo di Vincenzo Bonaiuti de' Galilei was born in Pisa (then part of the Duchy of Florence), the first of six children of Vincenzo Galilei, a famous lutenist and music theorist, and Giulia Ammannati.

1894 Astronomer Royal becomes new Cosmic Diary blogger : The Cosmic Diary has a new participant from 18 February: Great Britain's Astronomer Royal from the year 1894, William Henry Mahony Christie. He will be joined by his two assistants, Herbert Hall Turner and Frank Watson Dyson, as they each blog in text and images about their lives and work at the Greenwich Observatory.

StarLight: A Common Heritage: Declaration in Defence of the Night Sky and the Right to Starlight and Starlight, A Common Heritage Book are available in PDF.

StarPeace Event in India and Pakistan: On February 9, during a penumbral lunar eclipse, StarPeace connected two countries, Pakistan and India, together. Society of the Sun in Pakistan and Kutch Amateur Astronomy Club in India organized this event successfully in SOS villages of both countries.

Valcato Hosting: To celebrate IYA2009, Valcato Hosting is offering one year of free web hosting for any and all astronomy websites! 

President of the Polish Republic : Lech Kaczynski presides over the Polish IYA2009 Honour Committee.

JENAM2009 Symposium:IYA2009 in Europe: The International Year of Astronomy 2009 is a fantastic opportunity for astronomers around the world, and in particular, in Europe to showcase the excitement and challenges of astronomy today.

100 Hours of Astronomy project kicks off!: The International Year of Astronomy 2009 (IYA2009) is about to reach new heights as the Global Cornerstone Project, 100 Hours of Astronomy, scheduled to take place from 2–5 April 2009, ramps up.
Showing 181 to 190 of 250
Search IYA2009 Features
---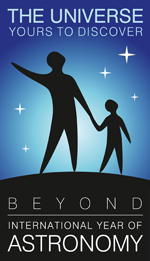 National Nodes: 148
Organisational Nodes: 40
Organisational Associates:33
National Websites: 111
Cornerstone Projects: 12
Special Task Groups: 11
Special Projects:16
Official Products:8
Media Partners:22