IYA2009 Features

SGAC IYA2009 Essay Competition: "What Astronomy means to you?" SGAC is looking for Young Astronomers who can express their feelings in a creative way. 2 first prize will be invited to Paris to participate "Opening Ceremony of the International Year of Astronomy" between 14-18 Jan 2009.

Royal Australian Mint Shoots for the Stars with Astronomy Coins: The Mint joined with the Canberra Astronomical Society to create a night of star-gazing in celebration of the 2009 year set theme which commemorates the International Year of Astronomy 2009.

Images Galileo Galilei's instruments, books and records now available.:

Prince Felipe of Spain: Prince Felipe of Spain (Prince of Asturias) presides over the Spanish IYA2009 Honour Committee.

NASA Selects IYA2009 Student Ambassadors: Forty-six undergraduate and graduate students have been selected to represent NASA in their local communities as recipients of the agency's International Year of Astronomy, or IYA, Student Ambassadors Program.

FETTU exhibits around the globe: In October 2008, NASA approved an Education and Public Outreach proposal for From Earth to the Universe, an IYA2009 Cornerstone Project.  Approximately US$300,000 has been awarded for use in 2009 and 2010. 

Guidelines for the selection of IYA2009 Official Products: this is intended to give products which satisfy the vision of IYA2009 greater international recognition, an opportunity to link with celebrations worldwide and to use the IYA2009 global network to reach out.

Great World Wide Star Count:

IAU Symposium 260: This conference brings together most major actors that succeed in ensuring that Astronomy is present at all levels in Education, Society and Culture worldwide.

Welcome to the new National Nodes: A warm welcome to Albania, Afghanistan and Democratic People's Republic of Korea!
Showing 231 to 240 of 250
Search IYA2009 Features
---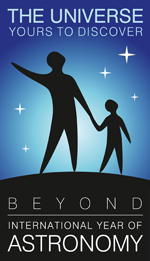 National Nodes: 148
Organisational Nodes: 40
Organisational Associates:33
National Websites: 111
Cornerstone Projects: 12
Special Task Groups: 11
Special Projects:16
Official Products:8
Media Partners:22