IYA2009 Features

Coloring Space: Two realms of color: art and space

International Observe the Moon Night: 18 September 2010 will mark the first ever International Observe the Moon Night!

Astronomy & World Heritage Thematic Study released: The thematic study on the Heritage Sites of Astronomy and Archaeoastronomy presents an overall vision of astronomical heritage and attempts to identify some of the most outstanding examples that are of significance to everyone.

Total Solar Eclipse of 11 July 2010: 11 July will feature another total solar eclipse.
Hubble Pop Culture Contest: For the past 20 years the Hubble Space Telescope has brought you the most breathtaking images of the Universe. Now it's your turn to look for astonishing examples of Hubble pictures, or pictures of Hubble, used in unexpected places.

Communicating Astronomy with the Public Journal #8 is out: In this issue of CAPJournal, the artist Tim Roth and his collaborators give us a behind the scenes look to their science–art project Cosmic Revelation and Matthew McCool looks back in time to the clash between science and the humanities and much more.

Yuri's Night: World Space Party: 12 April

"30 Nights of StarPeace" Moves West: India, Nepal, Sri Lanka and Pakistan Join the Celebration as the Event Arrives at 72-108 Degrees E Longitude

April 1 marks the beginning of Global Astronomy Month 2010: The long-awaited global celebration of people sharing the same sky. The day begins just West of the International Date Line so Oceania and Eastern Asia are the first to mark the start of what will be a month full of events.

She is an Astronomer conference: Celebrating success and seeking solutions
Showing 11 to 20 of 250
Search IYA2009 Features
---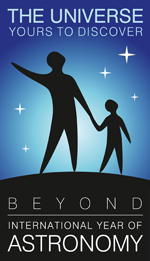 National Nodes: 148
Organisational Nodes: 40
Organisational Associates:33
National Websites: 111
Cornerstone Projects: 12
Special Task Groups: 11
Special Projects:16
Official Products:8
Media Partners:22