"30 Nights of StarPeace" Moves West
6 April 2010
India, Nepal, Sri Lanka and Pakistan Join the Celebration as the Event Arrives at 72-108 Degrees E Longitude
After the first three nights of StarPeace were celebrated at the same time by China, The Philippines and New Zealand, the celebration, organized by StarPeace in collaboration with Astronomers Without Borders (AWB) as part of "Global Astronomy Month" (GAM), moves 36 degrees toward the West. Between April 4 and 6, countries situated at 72-108 degrees E longitude are invited to observe the sky together and be "One People, One Sky."
So far, four countries have announced their participation: India with four groups, Pakistan with two groups, and Nepal and Sri Lanka with one group each.
In Delhi, Mila Mitra from S.P.A.C.E. India is holding stargazing sessions from the S.P.A.C.E. office during all the three days. On April 4, three other groups from India join in. Datta Deogaonkar from Ahmendnagar is organizing a stargazing program and giving a lecture on "Sky Watching and Astronomy" which is being broadcasted live at the "All India" radio station. On the morning of April 4, Manoj Pai from the Astronomy Club Ahmedabad is holding solar observations near Kankaria Lake simultaneously with Narendra Sagar Gor from the Kutch Amateur Astronomy Club.
At the same time, during the three nights of April 4-6, Suresh Bhattarai from the Nepal Astronomical Society is organizing star parties, while Thilina Heenatigala from the Sri Lanka Astronomical Association joins in with a sidewalk astronomy event on April 4. In Pakistan, a planetarium in Karachi is holding a special public event on April 4, while a group in Lahore holds events on April 5 and 6.
If your country is located at a longitude between 72 and 108 degrees E, you are invited to join the borderless celebration of the universe and become one people under the same sky.
More information about the "30 Nights of StarPeace" program taking place during April 2010, Global Astronomy Month, can be found on the "30 Nights of StarPeace" GAM web page.
Search IYA2009 Updates
---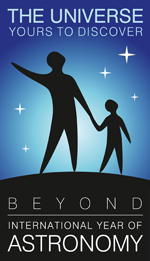 National Nodes: 148
Organisational Nodes: 40
Organisational Associates:33
National Websites: 111
Cornerstone Projects: 12
Special Task Groups: 11
Special Projects:16
Official Products:8
Media Partners:22