IYA2009 Features

World Space Week: To celebrate each year at the international level the contributions of space science and technology to the betterment of the human condition.

"She Is An Astronomer" 2010 Calendar: The "She Is An Astronomer" cornerstone project of the International Year of Astronomy has produced a colorful calendar for 2010 featuring accomplished women astronomers from around the world.

Become an astronomy researcher for a night: Launched in 1995, Researchers' Night is an annual Europe-wide event where the public at large have the opportunity to discover the magical work of science. Dozens of laboratories, universities, enterprises, and foundations open their doors and unveil their secrets. This year it falls on 25 September.

Communicating Astronomy with the Public 2010 : The conference "Communicating Astronomy with the Public 2010 - communicating in IYA2009 legacy era" will take place in Cape Town, South Africa, from 15 to 19 March, 2010.

Israeli Sci-Fi and Fantasy Festival celebrates IYA2009: To honour 2009, the upcoming ICON Festival is set to include an academic conference about astronomy.

Galilean Nights: Global Astronomy Event Invites the World to Discover Our Universe: From 22 to 24 October, amateur and professional astronomers, science centres, schools and all interested groups are invited to be part of the Galilean Nights project and to register their events on the project website www.galileannights.org. We can all make this a worldwide success.

Official IYA2009 comic, "The Lives of Galileo", goes from strength to strength: Everybody is familiar with the name of Galileo. But what do we know about him?

Discover our Universe with ESO's GIGAGALAXY ZOOM : The first of three images of ESO's GigaGalaxy Zoom project — a new magnificent 800-million-pixel panorama of the entire sky as seen from ESO's observing sites in Chile — has just been released online.

365 Days of Astronomy Podcast Wins Prestigious Parsec Award: The 365 Days of Astronomy Podcast, an official podcast of the International Year of Astronomy 2009 (IYA2009), won the prestigious Parsec Award for Best Infotainment Podcast on September 5.

The UNESCO Courier: 400 years ago Galileo took the dark stains on the surface of the moon to be seas. He was wrong. Today, we are sending missions to the moon in search of water. These technological advances have been extraordinary. Yet, the universe remains largely unknown.
Showing 71 to 80 of 250
Search IYA2009 Features
---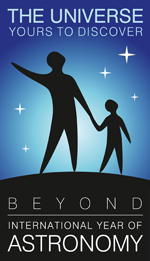 National Nodes: 148
Organisational Nodes: 40
Organisational Associates:33
National Websites: 111
Cornerstone Projects: 12
Special Task Groups: 11
Special Projects:16
Official Products:8
Media Partners:22