IYA2009 Features

endiya: Updates of this website ceased in 2012

Summary of International Year of Astronomy 2009 Released : 24-page brochure with highlights from the IYA2009 available for download

April 2011 is Global Astronomy Month: April 2011 will again be a busy month for amateur and professional astronomers, educators and astronomy enthusiasts as Global Astronomy Month (GAM) returns for its second edition.

SPICA telescopes empower astronomy education: Recently, ORBYS Inc donated a Spica Telescope Kit to each recipient of the Galileo Teachers Training Session seed grants.

Communicating Astronomy with the Public journal: This special issue of CAPjournal looks at IYA2009 events that focused on cultural astronomy and discusses how including a historical or cultural aspect can help communicators to engage with a wider audience.

World Space Week: 4-10 October, is the annual global space celebration. With public and school activities around the world.

IYA2009 Call for Additional Reports: The IYA2009 secretariat calls on individuals, organisations, universities, amateur associations, etc. to submit any additional IYA2009 relevant reports, brochures and books to be archived on the main IYA2009 website for posterity

Cosmic Diary Anthology Released as a Free Book: Postcards from the Edge of the Universe. A legacy of the International Year of Astronomy 2009 Cornerstone project Cosmic Diary, the book features articles from astronomers around the world about the hottest astronomical topics of the moment

IYA2009 Final Report Released: A 1400-page final report for the IYA2009 was released. The report shows that at least 815 million people in 148 countries participated in the world's largest science event in decades.

The Great World Wide Star Count: The Great World Wide Star Count encourages everyone to go outside, look skyward after dark, note the stars in certain constellations, and report what they could see online.
Showing 1 to 10 of 250
Search IYA2009 Features
---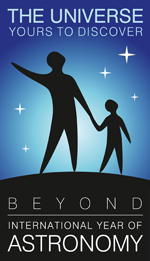 National Nodes: 148
Organisational Nodes: 40
Organisational Associates:33
National Websites: 111
Cornerstone Projects: 12
Special Task Groups: 11
Special Projects:16
Official Products:8
Media Partners:22