IYA2009 Features

Belfast looks to the sky for inspiration: The International Year of Astronomy 2009 is a global celebration of astronomy and this month in Belfast, Northern Ireland, the Belfast City Council is recognising the contribution of space to society through a myriad of social events, including a Carnival Parade

International Year of Astronomy 2009 raises millions of eyes to the skies : As the International Year of Astronomy 2009 (IYA2009) reaches its six-month milestone, over a million people have already looked at the sky through a telescope for the first time, and even more have newly engaged in astronomy.

Call for proposals for free Galileoscopes: The IYA2009 invites countries, organisations and individuals to submit calls for proposals for free Galieoscopes. This call is solely intended to countries organisations or individuals who were not able to afford their own Galileoscopes.

IYA2009 Twitter feed reaches over 3000 followers: The official IYA2009 Twitter feed, @astronomy2009, now has over 3000 followers. This is a great success for the venture, and the number is set to increase even more.

HISTORY launches new website celebrating The Universe: HISTORY, the proud, exclusive television partner of IYA2009, has launched a fantastic website where people can explore the universe through virtual interactive-maps, a challenging online game, videos, and images. Now airing on channels all over the world. Check out your region's site today!

The 365 Days of Astronomy podcast nominated to the Parsec Award 2009: 365 Days of Astronomy has been nominated for Parsec Award in the categories Best "Infotainment" Cast.

CERN Courier: IYA2009 Special Issue : Particle and nuclear physics may deal with the smallest components of matter, but both have strong links with astronomy – the news story above is just one example. This issue of CERN Courier celebrates IYA2009 with this and several longer articles.

IYA2009 Classical Concert by the joint EUMETSAT-ESOC Chamber Music Ensemble:

Communicating Astronomy with the Public Journal #6 is out! : In this issue, educational and public outreach sessions take the limeligh

Galileo-kun and his friends: "Galileo-kun and his friends", the mascot characters of the IYA2009 Japan Committee, will tell you wonderful stories and introduce you to the wonderful world of starry skies and astronomy!
Showing 111 to 120 of 250
Search IYA2009 Features
---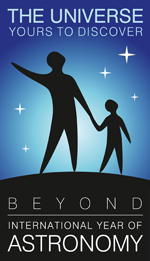 National Nodes: 148
Organisational Nodes: 40
Organisational Associates:33
National Websites: 111
Cornerstone Projects: 12
Special Task Groups: 11
Special Projects:16
Official Products:8
Media Partners:22