IYA2009 Twitter feed reaches over 3000 followers
22 June 2009
IYA2009 Twitter feed reaches over 3000 followers
The official IYA2009 Twitter feed, @astronomy2009, now has over 3000 followers. This is a great success for the venture, and the number is set to increase even more.
Twitter is a web-service where short updates are sent to interested individuals. It is free and simple to use, and an ideal method to keep up-to-date with IYA2009 developments. @astronomy2009 features all the latest news from the official IYA2009 website, and even more besides. It also gives fellow Twitter users the opportunity to quiz the IYA2009 team directly, and offer feedback and support.
To learn more about Twitter and to sign up for a free account, visit the official site.
Search IYA2009 Updates
---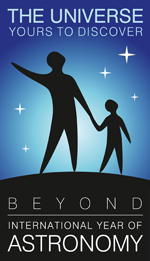 National Nodes: 148
Organisational Nodes: 40
Organisational Associates:33
National Websites: 111
Cornerstone Projects: 12
Special Task Groups: 11
Special Projects:16
Official Products:8
Media Partners:22