Belfast looks to the sky for inspiration
30 June 2009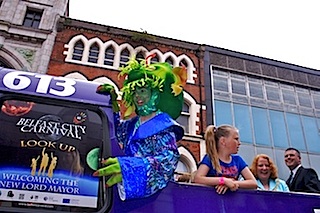 The International Year of Astronomy 2009 is a global celebration of astronomy and this month in Belfast, Northern Ireland, the Belfast City Council is recognising the contribution of space to society through a myriad of social events.

The "From Earth To The Universe" UK outdoor exhibition, on the grounds of the Belfast City Hall, offers the passer-by a great visual and entertaining cosmic spectacular on the lawns of the City Hall until 17 July. "Look up!" was the title for the Carnival, officially endorsed by the new Alliance lord mayor Naomi Long.
BEAT, Belfast's carnival company, has been working with artists and community groups from all across the city to bring the streets alive on Carnival day.
A celestial feast of astronauts, astronomers, Sun and Moon worshippers, Men in Black, Cybermen and a varied selection of visitors from other worlds walked and danced on the streets of Belfast, much to the delight of the massed crowds. The carnival concluded with a fantastic half-an-hour concert of space themed rock music, performed by the Carnival Supergroup.

"This was such a tremendous success", said Robert Hill, Director of the Northern Ireland Space Office. "The Night Sky is free to all to observe and the 'Look Up!' theme not only recognises the impact that astronomy has had as an inspiration for generations of scientists, engineers, artists and poets but should help everyone realise their own self potential." He continued "A Carnival such as this brings together all aspects of the wider community in the province and it is great to see what we can all achieve if we really work together."

David Boyd, BEAT's Director, said: "This year, to mark 2009 as the International Year of Astronomy, we have taken the space theme to Look Up and explore the stars. We are looking to the future too, as we will continue the theme into the next year."

See more...
Youtube video: short movie from Stephany Mazon
Photos: carnival photo gallery from Miruna Popescu
Videos: interviews from Garry Gattan carnival highlights from Garry Gattan
Music: space concert from the Carnival Supergroup
Search IYA2009 Updates
---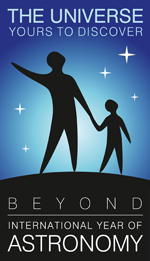 National Nodes: 148
Organisational Nodes: 40
Organisational Associates:33
National Websites: 111
Cornerstone Projects: 12
Special Task Groups: 11
Special Projects:16
Official Products:8
Media Partners:22