IYA2009 Features

IYA2009 - Mickey Mouse: This Limited Edition pin commemorates the International Year of Astronomy and features Mickey dressed as Galileo looking through a telescope. Martha Widener of the Disney Design Group created the original artwork for this pin.

Celebrating the 1919 Eclipse at Príncipe: New website for the IYA2009 Special Project

Annular Solar Eclipse: 26 Jan 2009: An annular eclipse will be visible from a wide track that traverses the Indian Ocean and western Indonesia. A partial eclipse will be seen within the much larger path of the Moon's penumbral shadow, which includes the southern third of Africa, Madagascar, Australia except Tasmania, southeast India, Southeast Asia and Indonesia.

IYA2009 Official Products: commercial products which satisfy the vision of IYA2009 greater international recognition, an opportunity to link with celebrations worldwide and to use the IYA2009 global network to reach out.

A Message in the Stars: Taking a long exposure of the bright star Sirius, Jimmy Westlake blocked the light at specific times by placing his hand over the lens. The resulting dot-dash pattern spells out a message in International Morse Code.

IYA2009 Opening Event in Berlin today!: The IYA2009 kicks off today in Germany. Watch the live stream starting 18.30h UTC

History and IYA2009: working together to benefit astronomy: As a IYA2009 Media Partner, History will contribute to promoting IYA2009 and raise awareness of its global activities and events.

IYA2009 Opening Ceremony Live Coverage:

IYA2009 Opening Ceremony opens today:

Anniversary of Galileo's Observations: IYA2009 may only be two weeks old, but it is already time to mark an important historical event.
Showing 201 to 210 of 250
Search IYA2009 Features
---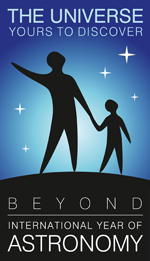 National Nodes: 148
Organisational Nodes: 40
Organisational Associates:33
National Websites: 111
Cornerstone Projects: 12
Special Task Groups: 11
Special Projects:16
Official Products:8
Media Partners:22