IYA2009 Features

Teaching With Telescopes: Teaching With Telescopes is designed to help teachers bring small telescopes into the classroom.

London's National Maritime Museum scoops award for IYA2009: gold for Visitor Attraction of the Year

IYA2009 Galilean Nights award winners announced!: Galilean Nights ran during October 2009 and saw thousands of individuals and organisations host a wide range of events to popularise astronomy and highlight the importance of Galileo's legacy.

The Hubble Classroom Collage Activity: Images from the Hubble Space Telescope inspired classes in the USA to create unique collages of their favorite Hubble photos.

Less of Our Light for More Star Light: Join the 5th worldwide Globe at Night 2010 campaign: 3 -16 March 2010!

400 Years of the Astronomical Telescope: A special poster promoting advances in telescope technology was made as a project for Science and Technology Week of Japan.

Galileo Teachers Training Program 2010: Call for Proposals: Grants and basic support to stimulate teacher training workshops in developing regions.

Global Astronomy Month – April 2010 : Let's Continue the Celebration of the Universe!

Beauty Without Borders has started!: Join or follow this event from anywhere in the world.

The Lives of Galileo: The Lives of Galileo now a TV Show
Showing 21 to 30 of 250
Search IYA2009 Features
---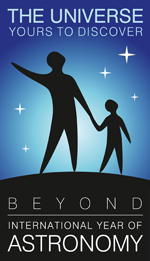 National Nodes: 148
Organisational Nodes: 40
Organisational Associates:33
National Websites: 111
Cornerstone Projects: 12
Special Task Groups: 11
Special Projects:16
Official Products:8
Media Partners:22