Galileo Teachers Training Program 2010 - Call for Proposals
4 February 2010
The IAU and UNESCO has earmarked a certain amount of funding to support beyond IYA2009 related projects and activities in developing regions. This call for proposals comes via the Galileo Teachers Training Program GTTP cornerstone and is thus targeted at providing seed funding and basic support in order to stimulate teacher training workshops in developing regions. Note that although this funding is aimed specifically at "developing countries", exceptions with appropriate motivation will be accepted – the main concern simply being who the beneficiaries would be. Proposals should also be in alignment with the IYA2009 goals and more specifically the GTTP goals listed in this brief and in detail in www.galileoteachers.org .
These small grants (up to 500 Euro) are intended to simply act as a stimulus to support organizations which are enthusiastic about improving the science teaching in classroom worldwide. Efficient use of these funds to train teachers capable of further train other pears and successfully implement the learned resources and tools in classroom would result in a solid start of a local community for the global GTTP effort.
The funds shall be used to:
Produce educational material to distribution to workshop participants;
Travel and subsistence for teachers attending the workshop, when needed.
Applications for funding are invited only via IYA2009 national nodes (each country should have an official point of contact who has been registered with the IYA2009 secretariat – full list of national nodes available on http://www.astronomy2009.org/organisation/nodes/national/ – if your country does not have a national node, please contact us for information on setting one up).
Funding Conditions
A country is only eligible to submit proposals if it has completed the Astronomy Education Survey (see www.galileoteachers.org to check if your country has completed it).
Funding will be limited to a maximum of 500 Euros per proposal
Only one proposal per country will be selected.
The proposal has to be submitted through the country SPoC (single point of contact)
Only completed application forms will be considered
Successful applicants will be required to sign a Terms of Reference and abide by the grant's reporting criteria
Selection Criteria
The following criteria will be considered in the selection of projects.
Alignment with the goals of IYA2009 and GTTP.
Quality and relevance of workshop content.
Innovativeness and creativity of approach.
Clear timeline indicators.
Cost effectiveness of the project including a detailed budget.
Potential to raise funding from other sources
Degree of impact of the project with potential for sustainability.
Proposal Evaluation
The proposals will be reviewed and evaluated by the GTTP Task Group in consultation with the IAU IYA2009 EC WG.
Proposal Requirements
All proposals must be submitted in completed application forms using the following link: http://www.site.galileoteachers.org/index.php?option=com_content&view=article&id=148&Itemid=50
Or alternatively sent to:
GTTP
Largo dos Topázios, 48 – 3 F
2785-817 São Domingos de Rana
Portugal
It is the responsibility of the applicant to ensure that the proposal has been received in order. All proposals received will be acknowledged by email.
Closing Date
The deadline for submitting proposals is close of business on February 25th 2010
All applicants will receive feedback regarding the decision during March 2010
The Galileo Teacher Training Program has decided to extend the deadline of the call for proposals to 25 March 2010.
Enquiries
Rosa Doran (Chair of GTTP)
Office Telephone: +351 239 854 358
Mobile Phone : +351 966 781 264
Email : info@galileoteachers.org
Website: www.galileoteachers.org
Search IYA2009 Updates
---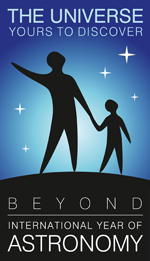 National Nodes: 148
Organisational Nodes: 40
Organisational Associates:33
National Websites: 111
Cornerstone Projects: 12
Special Task Groups: 11
Special Projects:16
Official Products:8
Media Partners:22