IYA2009 Features

News round-up, 24 July:

Experience the Planets: Sunlight shining through the rings of Saturn. Planet-wide dust storms cloaking Mars in pale obscurity. Images such as these only emphasize nature's ability to amaze and inspire. But what haven't we seen in our own solar neighborhood? What fantastic vistas has science predicted but so far been unable to capture?

THE ORIGIN OF GALAXIES: LESSONS FROM THE DISTANT UNIVERSE: ESF-FWF Conference in Partnership with LFUI in the framework of the IYA2009

4th International UNAWE Workshop: 4th International Universe Awareness (UNAWE) workshop taking place in Rio de Janeiro on Saturday and Sunday August 8-9, 2009.

Happy Birthday IAU!: Of the many special anniversaries occurring throughout 2009, one of the most important marks 90 years since the formation of the International Astronomical Union (IAU).

Welcome to IYA2009!: A warm welcome to the new National Nodes: Guinea-Bissau, São Tome and Principe, Eritrea and Suriname.

Worldwide broadcast for July's solar eclipse: 22 July will feature the longest solar eclipse of the 21st Century. At 6 minutes and 39 seconds, it will be an impressive sight for those able to see it. Visible from mainland Asia, Japan's Ryukyu Islands, and through the Pacific Ocean, the experience for people in those regions will be incredible.

The Cosmic Detective helps you discover the Universe in several languages: The Cosmic Detective, an official IYA2009 book, has been translated into several languages and is enjoying great success.

New Moon Landing edition of Star Walk: Get ready to celebrate the Moon Landing 40th anniversary with Star Walk!

During IYA2009, the world celebrates 40 years since the Moon landings: When thinking about pivotal moments in the history of mankind, the Moon landings of 1969 will be at the top of many people's lists. It was the first time that we had left the planet Earth and set foot on a different world. People from all nations joined together to watch the spectacle as history was made.
Showing 91 to 100 of 250
Search IYA2009 Features
---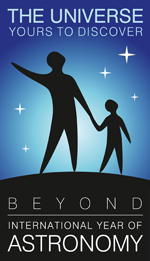 National Nodes: 148
Organisational Nodes: 40
Organisational Associates:33
National Websites: 111
Cornerstone Projects: 12
Special Task Groups: 11
Special Projects:16
Official Products:8
Media Partners:22