IYA2009 Features

Galileo: Images of the Universe from Antiquity to the Telescope: The history of astronomy in a fascinating exhibition in Florence, held to mark the 400th anniversary of Galileo's sensational discoveries.

Galileoscope in production: The IYA2009 telescope is now available!: The Galileoscope — a high quality, easy-to-assemble and easy-to-use telescope at an unprecedentedly low price — is now available to order

GLOBE at Night Ready for IYA2009: The fourth edition of the international star-counting program GLOBE at Night is poised for wider participation than ever from March 16-28, as a key activity in the Dark Skies Awareness cornerstone effort of the International Year of Astronomy 2009 (IYA2009).

Physics World March 2009 Special Issue: Download a sample copy of the special Astronomy 2009 issue of Physics World to celebrate the International Year of Astronomy. Read about the search for exoplanets, the development of planetary exploration, a return to the Moon, plans for extra-large telescopes, and the legacy of Galileo.

What do children think of the universe?: We wish to make this an opportunity to share children's perception of the sky. To best take advantage of this opportunity I would like to ask all of you, if you have the opportunity to interview children aged between 4 - 10 that you work with, and ask them about the sky.

AthenaWeb: AthenaWeb, IYA2009 Media Partner, turns our eyes to the stars and the skies in celebration of the International Year of Astronomy (IYA2009).

IYA2009 forges links with the European Year of Creativity and Innovation: The European Commission has decided to mark 2009 as the European Year of Creativity and Innovation. The aims of the year are to raise awareness of the importance of creativity and innovation; to disseminate good practices; to stimulate education and research.

Deutsches Museum announces its activities for IYA2009: The world-renowned Deutsches Museum is planning a series of events to celebrate IYA2009.

President of the Republic of Slovenia: dr. Danilo Turk becomes patron of IYA2009 in Slovenia.

Small Solar System Body Named After IYA2009: The International Astronomical Union Working Group on Small Bodies Nomenclature has decided to name a minor Solar System body after IYA2009. Its official designation is now (58664) IYAMMIX.
Showing 171 to 180 of 250
Search IYA2009 Features
---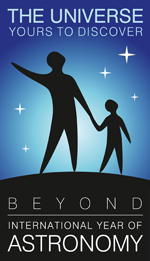 National Nodes: 148
Organisational Nodes: 40
Organisational Associates:33
National Websites: 111
Cornerstone Projects: 12
Special Task Groups: 11
Special Projects:16
Official Products:8
Media Partners:22