Deutsches Museum announces its activities for IYA2009
23 February 2009
The world-renowned Deutsches Museum is planning a series of events to celebrate IYA2009:
Evolution of the Universe Exhibition
A show explaining how our Universe has developed, starting from the Big Bang 13.7 billion years ago, and bringing us up to the present day. Questions that puzzle astronomers will be examined, and there will even be a look into the cosmic future.
Reopening of the Renovated Goerz-Reflector
After a year's absence, this lovingly-restored telescope will be back in action! A public observation night will give it the return it deserves.
40 Years after the Moon Landing
An exhibition focusing on the exciting topic of man's exploration of the Moon. Actual lunar rock samples and original Apollo space suits will be present.
Moon Pictures
The Earth's natural satellite is the focus of this exhibition containing stunning images spanning many ages.
Lecture Series
Aimed at the general public, titles include "Black holes in the LHC particle accelerator?" and "Blue flashes from the cosmos - the hunt for cosmic particles." More information (in German): http://www.deutsches-museum.de/information/vortraege/fuer-jedermann/
Astronomy Day 2009
The Excellence Cluster Universe, TUMLab and Technical University of Munich are working with the Deutsches Museum to dedicate a day to astronomy, hosting many events and activities in the building. More information (in German): http://www.tumlab.de/astronomietag
Long Night of the Museums
17 October 2009. A marathon observation session using portable telescopes.
Educational Programmes
Ranging from "training educators" to sessions for the whole family. More information (in German):
Astronomy Courses with the Technical University of Munich
Opportunities for school children to learn about the night sky, telescopes, astronomical imaging and remote observations. More information (in German): http://www.tumlab.de/HOU
For more information, visit http://www.deutsches-museum.de/information/aktuell/2009/jahr-der-astronomie/. Please be aware that the content is in German.
Search IYA2009 Updates
---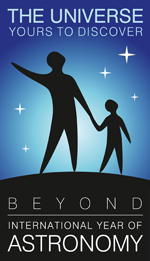 National Nodes: 148
Organisational Nodes: 40
Organisational Associates:33
National Websites: 111
Cornerstone Projects: 12
Special Task Groups: 11
Special Projects:16
Official Products:8
Media Partners:22