IYA2009 Features

Send a message to Venus: People are invited to send messages that will be printed in fine letters on an aluminium plate and placed aboard the Venus Climate Orbiter AKATSUKI.

IYA2009 Astronomical Exhibit in Monaco: n astronomical exhibit took place last September in Monaco, where amazing images from the astrophotographer Serge Brunier were displayed on the atrium of the renown Casino de Monte-Carlo.

Jupiter: Project 24: Join on 21-22 November the radio antennas of NASA's Deep Space Network, through its stations in Goldstone, California (thru GAVRT), Madrid, Spain and Canberra, Australia during a 24-hour observation campaign of Jupiter.

Special issue of UNESCO World Heritage Magazine: The latest issue of UNESCO's World Heritage Review has been released, with astronomy and world heritage as its theme. This is a significant product of the Astronomy and World Heritage IYA2009 Cornerstone project.

Nobel Laureate answers your questions: YouTube viewers worldwide have the opportunity to ask questions to a renowned and highly respected astrophysicist and 2006 Nobel Prize winner John Mather.

The Galileo Moment: More than 1 000 000 Canadians have experienced a Galileo moment in 2009!

The Eye 3D: A 3D-Documentary about the ESO Very Large Telescope

Galilean Nights: are here!

All you need to know about Galilean Nights: First hand on the new Cosmic Diary blogs!

IYA2009/Mani Bhaumik Prize for Excellence in Astronomy Education and Public Outreach: announced today!
Showing 51 to 60 of 250
Search IYA2009 Features
---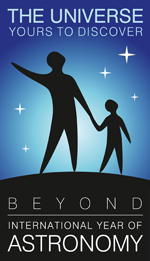 National Nodes: 148
Organisational Nodes: 40
Organisational Associates:33
National Websites: 111
Cornerstone Projects: 12
Special Task Groups: 11
Special Projects:16
Official Products:8
Media Partners:22