Nobel Laureate answers your questions
2 November 2009
YouTube viewers worldwide have the opportunity to ask questions to a renowned and highly respected scientist. John Mather, an astrophysicist from NASA, was awarded the Nobel Prize in Physics 2006, which he received with George Smoot for their discoveries regarding the echoes of the Big Bang - providing extraordinary glimpses of the beginning of the Universe.
Nobelprize.org, the official web site of the Nobel Foundation, is offering anyone the chance to pose their questions directly to a John Mather via the YouTube channel.
If you are in Stockholm, you can ask questions at the special YouTube pod stationed at the Nobel Museum during 20 - 24 October. Free admission will be given to visitors who ask a question at the Nobel Museum, Stortorget 2, Gamla Stan.
Ask A Nobel Laureate, John Mather, on YouTube 20 Oct - 30 Nov: http://www.youtube.com/thenobelprize
For more information about John Mather and his Prize-awarded discovery, visit: http://nobelprize.org/nobel_prizes/physics/laureates/2006/index.html
Search IYA2009 Updates
---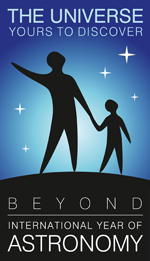 National Nodes: 148
Organisational Nodes: 40
Organisational Associates:33
National Websites: 111
Cornerstone Projects: 12
Special Task Groups: 11
Special Projects:16
Official Products:8
Media Partners:22