IYA2009 Features

IYA2009 Closing Ceremony videos now online: Those that were unable to attend the IYA2009 Closing Ceremony in Padova, Italy, may wish to view the video recordings.

A Short Astronomical Serenade: A multimedia project conceived to combine in a single event Astronomy, literature and live music.

IYA2009 Museum Collection: The IYA2009 and the official IYA2009 Collection Curator, Science Museum would like to collect a sample of this material as a museum collection of the fantastic activities carried out around the world in 2009

A new IYA2009 presentation is available: The International Year of Astronomy 2009 Slide Show.The variety of images, location and activities presented in the slides is intended to convey a feeling of the multicultural diversity that characterised IYA2009.

IYA2009 is looking for astro-numismatic-enthusiasts: The IYA2009 Secretariat is looking for someone to help compiling a comprehensive list of numismatic releases during 2009.

7 January 1610: On 7 January Galileo observes three bright little stars near Jupiter; by 15 January he has figured out that there are four satellites of Jupiter.

IYA2009 - Roadmap to IYA2009's Living Heritage : The IYA2009 was never foreseen to be a "one-off" event for one year, but a means to creating structures for collaboration, lasting self-sustaining activities and innovative concepts for the communication of astronomy.

Havana has a new planetarium!: A new planetarium has just opened in the Cuban capital, Havana

Close IYA2009 by journeying into a black hole!: To celebrate the closing of the International Year of Astronomy 2009, AthenaWeb and the scientific magazine Science et Avenir invite you to an incredible virtual space odyssey!

News round-up: Check the latest IYA2009 news around the world!
Showing 31 to 40 of 250
Search IYA2009 Features
---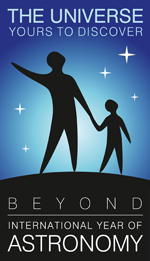 National Nodes: 148
Organisational Nodes: 40
Organisational Associates:33
National Websites: 111
Cornerstone Projects: 12
Special Task Groups: 11
Special Projects:16
Official Products:8
Media Partners:22