IYA2009 Features

"Europe builds on centuries of cooperation in astronomical research" by Janez Potocnik:

You are Galileo! Project: In this "You are Galileo" project, you will use a telescope similar to Galileo' s and re-discover the surprises that Galileo found.

Astronomy can foster development: Strengthening astronomy in poor nations can help promote socio-economic development.

Science Communication Workshop for IYA2009 Nodes:

Out-of-this-world astronomy ads debut on Toronto transit: University of Toronto astronomers are giving the sun, the moon and the stars to riders of Toronto public transit this month with a series of high-impact ads that promote the celestial science as part of IYA2009.

The Universe - Yours to Discover in Prague, Czech Republic: 7 January 2009, Old Town Square:Ceremony with the IAU President and the European Research Commissioner J. Potocnik.

The time is now!: 2009: Time to celebrate astronomy around the world.

Nature Magazine: A Big Year for Astronomy: The latest issue of Nature is dedicated to the big year for astronomy, the International Year of Astronomy 2009.

Discover the world of Astronomy with IYA2009 Media Partner: Wiley-VCH and Wiley-Blackwell: Discover the world of Astronomy with IYA2009 Media Partner: Wiley-VCH and Wiley-Blackwell

www.cosmicdiary.org: On-line 1 January 2009
Showing 211 to 220 of 250
Search IYA2009 Features
---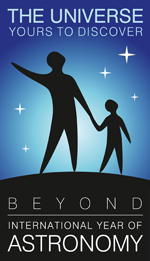 National Nodes: 148
Organisational Nodes: 40
Organisational Associates:33
National Websites: 111
Cornerstone Projects: 12
Special Task Groups: 11
Special Projects:16
Official Products:8
Media Partners:22