IYA2009 Features

Hubble's Amazing Rescue: Premiering today on PBS NOVA.

NASA release new film about the King of Planets: A new astronomy film, LARGEST, examines gas giant Jupiter like a work of art, a destination of celestial wonder.

New Turkish telescopes begin test observations during IYA2009: Three large optical telescopes established in Turkey have begun test observations.

Astronomy beyond 2009: Closing Event of International Year of Astronomy 2009, Padua, Italy: 9-10 January 2010

The GalileoMobile starts its South American voyage: astronomy education goes on tour through the Andes Mountains.

U.S. President Obama to host star party at the White House: A White House star party is taking place this Wednesday, 7 October.

Join Great World Wide Star Count!: This international event encourages everyone to go outside, look skywards after dark, count the stars they see in certain constellations, and report what they see online. This Windows to the Universe citizen science campaign is designed to encourage learning in astronomy. The Great World Wide Star Count will be held October 9 – 23, 2009!

The IYA2009 has 3 new Special Projects!:

European Week of Astroparticle Physics: From 10 to 17 October 2009, with open days, talks for the general public, exhibitions organized all over Europe, astroparticle physicists will then meet the general public and explain the challenges they face to answer the hot questions about the Universe, such as What is the Universe made of?", "What is the origin of cosmic rays?" or "What is the nature of gravity or dark matter?"…

Galilean Nights presentations now available!: With the focus of Galilean Nights being the objects that Galileo observed, find out more about those objects in the Galilean Nights presentations.
Showing 61 to 70 of 250
Search IYA2009 Features
---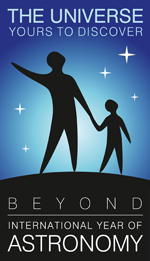 National Nodes: 148
Organisational Nodes: 40
Organisational Associates:33
National Websites: 111
Cornerstone Projects: 12
Special Task Groups: 11
Special Projects:16
Official Products:8
Media Partners:22