Galilean Nights are here!
22 October 2009
The latest IYA2009 Cornerstone project, Galilean Nights, is underway. This global celebration of the 400th anniversary of Galileo's observations is taking place between 22 and 24 October.
So far over 1150 events in 86 counties have been registered on the official website, and this number is growing all the time. Star parties, telescope sessions, exhibitions, competitions, and many more types of event are being run to mark this occasion.
All IYA2009 supporters are encouraged to participate, either by attending a nearby event, or organising and running one. Listings and tips are available on the official website, and any organisers who have yet to register their event are asked to do so as soon as possible.

The Galilean Nights astrophotography competition is also an excellent way to get involved, and is open to beginners as well as experienced photographers. With prizes including a Celestron SkyScout and FirstScope, it is definitely worth entering!
Fellow IYA2009 Cornerstone project The Cosmic Diary is running two blogs, one by IYA2009 Staff Writer Lee Pullen, and another by Galilean Nights organisers. These are perfect for keeping up to date with the project and getting an insider's view.
The IYA2009 team thanks all those involved in the Galilean Nights project and wishes them clear skies - or failing that, suitable indoor activities.
Useful links
Galilean Nights website: http://www.galileannights.org/
Events listing: http://www.galileannights.org/find_event.html
Register an event: http://www.galileannights.org/register_event.html
Astrophotography competition: http://www.galileannights.org/competition.html
Cosmic Diary LiveBlog: http://cosmicdiary.org/galilean_nights/
Organisers' Blog: http://cosmicdiary.org/galilean_night/
Galilean Nights press release: http://www.astronomy2009.org/news/pressreleases/detail/iya0918/
Search IYA2009 Updates
---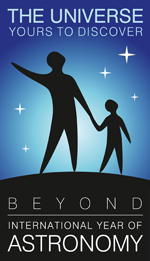 National Nodes: 148
Organisational Nodes: 40
Organisational Associates:33
National Websites: 111
Cornerstone Projects: 12
Special Task Groups: 11
Special Projects:16
Official Products:8
Media Partners:22