International Astronomical Union celebrates its 90th anniversary during IYA2009
28 July 2009
Of the many special anniversaries occurring throughout 2009, one of the most important marks 90 years since the formation of the International Astronomical Union (IAU).
Founded in 1919, the IAU's mission is to promote and safeguard the science of astronomy in all its aspects through international cooperation. The IAU initiated IYA2009 in 2003 and continues to be a primary driving force, ensuring that it a project of global scope and with achievable aims.
The IAU organises many large-scale conferences but is perhaps best known for its role in naming astronomical objects such as planets and asteroids, as well as any notable features on them. IAU members are professional astronomers from all over the world, at the Ph.D. level and beyond, and active in professional research and education in astronomy. The IAU has 9259 Individual Members in 87 countries worldwide. Of those countries, 64 are National Members. In addition, the IAU collaborates with various organisations all over the world.
Astronomy is at the forefront of modern science and technology. Many believe that astronomy is living in a golden age, with the IAU playing a major role within the community and beyond. IYA2009 will be a long-standing legacy of the IAU, bringing the Universe down to Earth for many years to come.
For more information about the IAU, please consult the official website:
and
Search IYA2009 Updates
---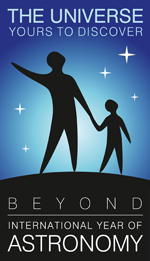 National Nodes: 148
Organisational Nodes: 40
Organisational Associates:33
National Websites: 111
Cornerstone Projects: 12
Special Task Groups: 11
Special Projects:16
Official Products:8
Media Partners:22