Get Ready for The Great World Wide Star Count
30 August 2010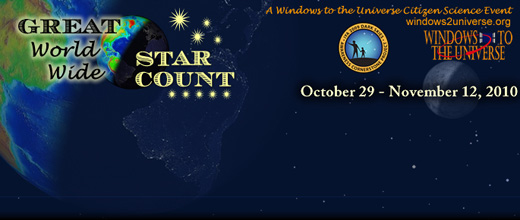 The Great World Wide Star Count encourages everyone to go outside, look skyward after dark, note the stars in certain constellations, and report what they could see online. Star Count is designed to raise awareness about the night sky and encourage learning in astronomy. All the information needed to participate is available on the Star Count Web site. Be sure to download the 2010 Activity Guide (available in 8 languages) to prepare your class for this project.
Participation involves use of a simple protocol and an easy data entry form. During the first three years, over 31,000 individuals from 64 countries and all 7 continents participated in this campaign to measure light pollution globally.
At the conclusion of the event, maps and datasets will be generated highlighting the results of this exciting citizen science campaign. Mark your calendars and plan on joining thousands of other students, families, and citizen scientists counting stars this fall.
The Great World Wide Star Count will be held from October 29 - November 12, 2010. For more information visit http://www.windows2universe.org/citizen_science/starcount/
or email starcount_info@ucar.edu.
Search IYA2009 Updates
---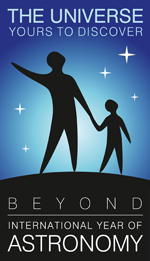 National Nodes: 148
Organisational Nodes: 40
Organisational Associates:33
National Websites: 111
Cornerstone Projects: 12
Special Task Groups: 11
Special Projects:16
Official Products:8
Media Partners:22