365 Days of Astronomy Podcast Wins Prestigious Parsec Award
9 September 2009
The 365 Days of Astronomy Podcast, an official podcast of the International Year of Astronomy 2009 (IYA2009), won the prestigious Parsec Award for Best Infotainment Podcast on September 5. This community-produced podcast brings together the voices of astronomers and astronomy lovers all around the world. Each day a different voice discusses their favorite corner of astronomy. The show can be found at 365DaysofAstronomy.org
The 365 Days of Astronomy (365 DoA) podcast is unique in how it brings together listener-created content to produce each daily show. "365 Days of Astronomy is a testament to the passion and knowledge that many people have about astronomy and space exploration," says 365 DoA team member Davin Flateau. "The daily podcasts are produced not only by scientists and educators, but also by many people who just want to share their excitement about the Universe. Listening to such diverse perspectives on my computer and music player continues to be a daily treat."
Contributors to 365 DoA include Diane Duane (author of the Middle Kingdoms series), Brother Guy Consolmangno (Vatican Observatory), Dr. Ed Stone (JPL, Voyager mission), and Dr. Chris Lintott (Sky at Night and Galaxy Zoo). The show has also featured interviews with Michael Turner (cosmologist, winner of the Lilienfeld prize), Tim Russ (Tuvok from Star Trek), and Robert Zubrin (Mars Direct).
"365 Days of Astronomy is undeniably the most ambitious and successful daily user-contributed podcast in history," says Michael Koppelman. "It really speaks volumes to the enthusiasm that people have for science and astronomy." Koppelman, along with Dr. Pamela Gay, are co-chairs of the IYA2009 New Media Task Group and are part of the 365 DoA production team.
The 365 DoA podcast has strived to be international in what it presents. "The 365 Days of Astronomy podcast has given the global astronomical community a voice," says British team member Rob Simpson. "In response they have shown themselves to be creative, insightful and entertaining; providing us daily with novel and interesting tales on a wide range of topics. It has really shown how online media can provide a whole new way of listening and participating, and can break down barriers in lots of ways."
The Parsec Award itself is an international award, with recipients coming from all around the globe.The 365 DoA team received their Parsec Award at the Dragon*Con convention in Atlanta. The award was accepted by George Hrab, composer of the show's theme song. (The 365 DoA theme song, "Far," can be found at http://www.youtube.com/watch?v=dF2HG1PVZok.) The 365 DoA podcast was one of five finalists for this award, with 50 shows receiving nominations.
"Although it is just three years old, the Parsec Awards have quickly become one of the most recognizable honors in science and fiction podcasting," said Gay. "To have our community production receive this award was an amazing experience. This is everyone's award."
Key contributors include Nancy Atkinson, Georgia Bracey, Davin Flateau, Kortney Hogan, Michael Koppelman, Emily Lakdawalla, Stuart Lowe, Martin Ratcliffe, and Robert Simpson. The 365 Days of Astronomy Podcast is produced by the New Media Working Group of th International Year of Astronomy 2009 at Southern Illinois University
Edwardsville, with audio post-production by Preston Gibson. Bandwidth is donated by libsyn.com and Wizzard Media. Web design is by Clockwork Active Media Systems. Podcasts maybe reproduced and distributed for non-commercial purposes.
The Parsec Awards were established in 2006 by Mur Lafferty, Michael R. Mennenga, and Tracy Hickman to celebrate speculative fiction podcasting. Podcast shows are nominated by fans, and finalists are chosen by an annually-selected steering committee. An independent panel of judges then votes upon those finalists. Awards are given in several categories, ranging from content to audio quality. The Parsec
Awards are presented with the support of Farpoint Media in conjunction with Dragon*Con. For more details, see the Parsec Awards website at parsecawards.com.
Note: the entire 365 Days of Astronomy team can be reached at info@365daysofastronomy.org
Search IYA2009 Updates
---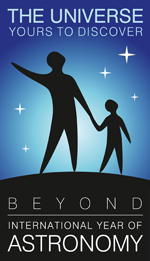 National Nodes: 148
Organisational Nodes: 40
Organisational Associates:33
National Websites: 111
Cornerstone Projects: 12
Special Task Groups: 11
Special Projects:16
Official Products:8
Media Partners:22