NASA Selects IYA2009 Student Ambassadors
5 November 2008
NASA Selects Astronomy Student Ambassadors

Forty-six undergraduate and graduate students have been selected to represent NASA in their local communities as recipients of the agency's International Year of Astronomy, or IYA, Student Ambassadors Program.
Two of the students were chosen to attend the opening ceremonies of an IYA event in Paris in January 2009. The students representing NASA at the ceremonies are Rebecca Holmes, a sophomore at the University of North Carolina Chapel Hill who is majoring in physics and astronomy, and Norberto Gonzalez, a junior at the University of Puerto Rico at Arecibo with a biology concentration.
The IYA Student Ambassadors Program is designed to encourage undergraduate and graduate students to participate in IYA activities and generate excitement about NASA's discoveries in astrophysics, planetary science and solar physics within their local communities and beyond. These students will serve as role models to others.
"NASA is a major partner in the United States' celebration of IYA activities," said Hashima Hasan, NASA's Astrophysics education and public outreach lead in Washington. "The Student Ambassadors Program is just one of many activities the agency has planned throughout the coming year."
The ambassadors were selected from more than 150 online applications. Applicants must be U.S. citizens, full-time students and participate in activities that align with NASA's IYA goals.
The National Space Grant Foundation manages the IYA Student Ambassadors Program through a grant from NASA. For more information about NASA's involvement and a list of student ambassadors, visit: http://astronomy2009.nasa.gov
Search IYA2009 Updates
---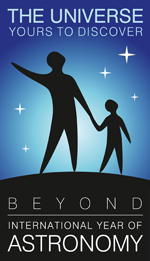 National Nodes: 148
Organisational Nodes: 40
Organisational Associates:33
National Websites: 111
Cornerstone Projects: 12
Special Task Groups: 11
Special Projects:16
Official Products:8
Media Partners:22