Report on StarPeace event between India and Pakistan
11 February 2009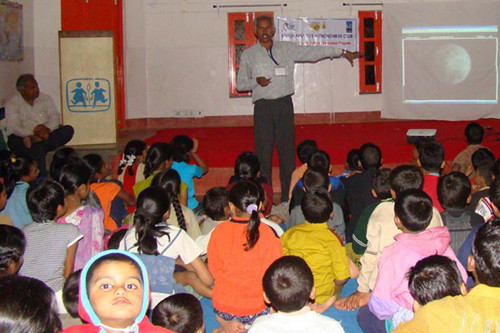 On February 9, during a penumbral lunar eclipse, StarPeace connected two countries, Pakistan and India, together. Society of the Sun in Pakistan and Kutch Amateur Astronomy Club in India organized this event successfully in SOS villages of both countries.
Narendra Sagar Gor form Kutch Amateur Astronomy Club held the event in Bhuj SOS children village, India, for about 70 children and their teachers. The program begins with introduction speeches on the basics of the eclipse. After that children went outdoors and observe the moon by telescope.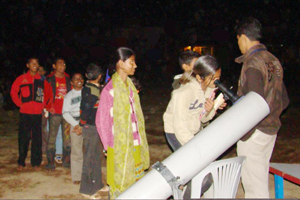 Meanwhile, a few kilometers away, children in Lahore SOS children village, Pakistan, were attending in astronomy lectures and workshops. Hassaan Ghazali from The Society of Sun taught them the basics of the eclipse, moon phases, Solar System planets, etc. Due to bad weather conditions children saw the moon just after rising over the horizon but unfortunately it soon disappeared behind clouds.
During these two events Narendra Gor and Hassaan Ghazali made a phone connection. While children in Lahore yelled "We are your friends", children in Bhuj were so excited and one of them talked to Hassaan Ghazali and told him she was enjoying the event thoroughly. Children in two countries were so excited and happy that they persisted to have such programs again.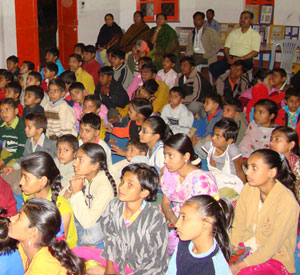 On one of the posters in Lahore these words were written: "One Sun, One Earth, No Borders!" StarPeace project's goal is to promote peace between nations and to show that there is no real border between humans, just like the sky in which there is no border lines! Where ever you are the sky is the same.
"Where I am, let it be so, the sky is mine" (Sohrab Sepehri)
Photos and detailed report on Pakistan event: http://www.starpeace.org/En/Events/Pakistan/Default.aspx
Photos and detailed report on India event: http://www.starpeace.org/En/Events/India/Default.aspx
Irene Shivaei
StarPeace Project Member of Board
website: www.starpeace.org
Search IYA2009 Updates
---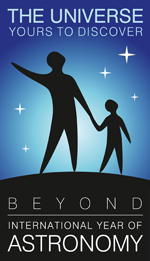 National Nodes: 148
Organisational Nodes: 40
Organisational Associates:33
National Websites: 111
Cornerstone Projects: 12
Special Task Groups: 11
Special Projects:16
Official Products:8
Media Partners:22