Planetarium shows ready to celebrate IYA2009
9 March 2009
Three new planetarium shows are ready to entertain and educate the public! Specially produced for the International Year of Astronomy 2009, the shows are sure to delight their audiences.
In Search of our Cosmic Origins introduces the Atacama Large Millimeter/submillimeter Array, the largest astronomical project in existence. Co-produced by ESO and the Association of French Language Planetariums, the show features two interwoven journeys, through the Chilean Andes and through the Universe. Its running time is 30 minutes and it will be available in multiple languages. It premiered in February 2009 and will be presented in many planetaria in Europe and throughout the world, with accompanying education material.
Touching the Edge of the Universe is one of the most exciting and imaginative celebrations of science and discovery during IYA2009. Co-produced by leading European planetaria and the European Space Agency (ESA), it was shot on location at ESA's Main Control Room in Darmstadt, Germany, and the Satellite Test Centre in Noordwijk, The Netherlands. It boasts highly sophisticated 4K animated graphics, the latest astronomical images, and detailed scenes never before seen on a planetarium dome. The show will premiere in Berlin, Vienna and Lucern on 7 May 2009.
The planetarium show Two Pieces of Glass was produced by Interstellar Studios and it complements the motion picture documentary, 400 Years of the Telescope. While attending a local star party, two students learn how the telescope has helped us understand our place in space and expands our understanding of the Universe.
To learn more about these planetarium shows, click on the following links:
Search IYA2009 Updates
---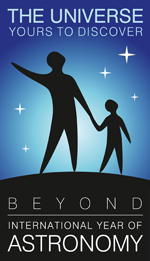 National Nodes: 148
Organisational Nodes: 40
Organisational Associates:33
National Websites: 111
Cornerstone Projects: 12
Special Task Groups: 11
Special Projects:16
Official Products:8
Media Partners:22