IYA2009 Update
23 October 2009
Galilean Nights are here!
The latest IYA2009 Cornerstone project, Galilean Nights, is underway. This global celebration of the 400th anniversary of Galileo's observations is taking place between 22 and 24 October. So far over 1150 events in 86 counties have been registered on the official website, and this number is growing all the time. Star parties, telescope sessions, exhibitions, competitions, and many more types of event are being run to mark this occasion. For more information and plenty of links, please visit: http://www.astronomy2009.org/news/updates/552/
European Southern Observatory opens its doors to the public
This October 24, falling within Galilean Nights, the European Southern Observatory (ESO) will be holding its Open Doors Day. This popular event allows members of the public to explore ESO's headquarters in Munich and talk with the astronomers working there. Events this year include films, talks, telescope observations, and "ask an astronomer" sessions. The Cosmic Diary Liveblogger will also be in attendance, reporting from a Galilean Nights perspective.
Short version of the programme, in German: http://www.eso.org/public/events/special-evt/openhouse09/index.html
Presentation of all institutes taking part of this year's Open House Day event: http://www.forschung-garching.de/
Galilean Nights LiveBlog: http://cosmicdiary.org/galilean_nights/
Tenth Colombian Astronomy Conference attracts VIP guests
The X Encuentro Colombiano de Astronomía (Tenth Colombian Astronomy Conference) held yearly by RAC (Colombian Astronomy network), was held this year in the CAFAM Convention Center, in Bogotá. The guest of honour was Mr. Gerolamo Schiavoni, Italian Ambassador to Colombia. Other attending VIPs included Mr. Ian McLennan, Vancouver (Canada) Planetary Director, and Antonio Bernal, who is the Director of Divulgation Activities of Fabra Observatory and Museum, in Barcelona, Spain. A testament to the potential of She Is An Astronomer, nearly 40% of attendees were women. In several speeches male astronomers recognised the vital work being done by female astronomers. Images from the event: http://www.flickr.com/photos/reddeastronomiadecolombia/
Digital FETTU exhibit in Canada
Astronomers in Victoria, Canada have launched their fourth digital image exhibit, this time in the Mayfair Shopping Centre. The images from the exhibit From Earth to the Universe (FETTU), the Canadian curated image archive, Canadian artists (First Nations, children, and established artists) and the Victoria RASC Centre are displayed on seven large high-definition TVs provided by their SONY partner. See more here: http://www.astronomy2009.org/news/updates/550/
Bangladesh World Space Week proves to be spectacular
World Space Week 2009 was celebrated at Enayetpur, the Space Village of Bangladesh, on 9-10 October. The theme was Space for Education and so around 24 schools with 3000 students, teachers and space enthusiasts participated. There were rocket competitions, space art, balloons, songs, cultural shows, quizzes, and even a parade! More event details are available here: http://www.astronomy2009-bd.org/wsw-2009_celebrated_at_enayetpur.htm Photos and a video are also online: http://www.flickr.com/photos/worldspaceweek/sets/72157622568584664/detail/
American Association for the Advancement of Science meets to mark IYA2009
The American Association for the Advancement of Science (AAAS) Caribbean Division will convene on 24 October in San Juan, Puerto Rico, with a programme to explore the importance and impact of astronomy in Latin America and beyond. This meeting's theme -"Astronomy and the Origin of Life"- links IYA2009 with the 200th anniversary of Charles Darwin's birth, and the 150th anniversary of the publication of Darwin's masterwork, "On the Origin of Species". For more information, please visit: http://www.aaas.org/news/releases/2009/1016cd_advance.shtml
Skygazers prepare to watch Orionid meteor shower
See http://www.astronomy2009.org/news/updates/545/ for information.
Naming Pluto update
October 2009 will be a bumper month for Special Project, Naming Pluto. Father Films' award winning documentary short, directed by Ginita Jimenez & documenting the extraordinary story of young Venetia Burney Phair, will screen at 6 Film & Science Festivals, including the prestigious United Nations Association Film Festival. For useful links, please see: http://www.astronomy2009.org/news/updates/544/
From Earth To The Universe updates
See them here: http://www.astronomy2009.org/news/updates/543/
BLAST! screenings in October
Dates, times and locations are online: http://www.astronomy2009.org/news/updates/542/
The World At Night newsletter
http://www.astronomy2009.org/news/updates/541/
Spanish Galilean Nights activity ready for action
A series of IYA2009-themed activities in the Spanish Extremadura region are about to reach their pinnacle with Galilean Nights. A presentation by The Department of Youths and Sport will be given, along with an official opening by Robert Hill, from Northern Ireland's Armagh Planetarium. There will also be practical workshops and the use of robotic telescopes. For more information, please visit: http://www.convivenciayocio.es/
A Year In Space: enjoy the Universe a day at a time for IYA2009
Starry Messenger Press have three enjoyable ways to help mark IYA2009: a free online calendar, free weekly e-mail, and a desk calendar. Published since 1994 by enthusiast Steve Cariddi, this one-man business is helping to bring beautiful astronomy images and fascinating facts to a very wide audience. Items are published in cooperation with The Planetary Society. Please see http://www.yearinspace.com/ for more information.
Web competition: Cosmic Collections
On 24 October 2009 the Science Museum, London, launches a competition to release hundreds of stories from our Cosmos & Culture exhibition on to the web. Join other astronomy enthusiasts, designers and web developers in an amazing mashup of creativity and ideas by creating your own websites with our objects. Whether you're interested in websites or astronomy, or a little bit of both, you can join up with people who have the skills you need to put together a winning web interface. The winning sites will be hosted on a Science Museum website - and did we mention there are two prizes of £1000 up for grabs? You can find out more about the judges, criteria and timelines here. http://www.sciencemuseum.org.uk/visitmuseum/galleries/cosmos_and_culture/mash-up_competition.aspx
Search IYA2009 Updates
---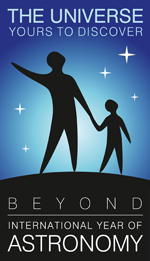 National Nodes: 148
Organisational Nodes: 40
Organisational Associates:33
National Websites: 111
Cornerstone Projects: 12
Special Task Groups: 11
Special Projects:16
Official Products:8
Media Partners:22