News Round-up
18 September 2009
Matador Trips is honouring IYA2009 by listing the best places to go stargazing. If you want an astronomically-themed holiday, why not check out their recommendations. Look, it's even been mentioned on astronomy2009.org.
Let's hand over to Upamanyu Morita's blog. This dedicated IYA2009 supporter has posted the full version of a video made for the 100 Hours of Astronomy Awards Ceremony. Click "play" and be impressed.
STOP PRESS! Tenerife News has the story of the year, about the village of Tegueste's Farmers' Market Association and local artists holding a "Stellar Street Market". Kicking off on 23 September, the market will (somehow) "pay tribute" to the stars and constellations which have been used for farmers' agricultural needs.
The Anglo-Celt reports that Shercock youth Paul Smith has won the Astronomy Photographer of the Year Youth Award. Congratulations Paul, you've done Shercock proud. For some reason the website hasn't been allowed to publish the winning image, so the journalist has found himself in the strange position of having to describe it. Nightmare scenario!
Next up on our whistle-stop tour is the University of Florida News. They say that the annual Starry Night event, run by the Florida Museum of Natural History and local astronomy groups, is taking place on 25 September. There will be activities for all the family, including Galileoscope building. Ooooh, this event actually has its own website!
Last week the news round-up plugged an article by The Comet, and it's happening again now! The news site advertised a public star party held at Letchworth. According to the new article, the event was given a big boost by the publicity provided by The Comet. Reading between the lines, this is *obviously* a veiled nod to the news round-up.
We'll end this week with a visit to the Hi-Desert Star. The IYA2009 event they're advertising is the Yucca Valley's 13th annual Starry Nights Festival. There will be astronomers on hand to give talks and answer questions, a raffle, and even a kids' fancy-dress fun day. Why is that only open to children?
Search IYA2009 Updates
---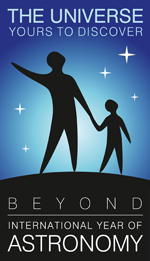 National Nodes: 148
Organisational Nodes: 40
Organisational Associates:33
National Websites: 111
Cornerstone Projects: 12
Special Task Groups: 11
Special Projects:16
Official Products:8
Media Partners:22