IYA2009 News Round-up
12 September 2009
The BBC has made another video about IYA2009. Called "She's an astronomer: A typical day", it follows a day in the life of Dr Catherine Heymans, from the Royal Observatory at Edinburgh University's Institute of Astronomy. Go to 1:03 and note her novel monitor stand. She's an innovative one! Watch the video NOW.
Next to SFGate, apparently home of the San Francisco Chronicle. Astronomers of both professional and amateur variety are meeting in Millbrae for public observing through telescopes and also talks about hot topics in space science. Respect to the article for mentioning IYA2009 in the opening paragraph. No footnotes for IYA2009 when SFGate is concerned!
Appropriately named The Comet has run a story about the UK's Letchworth and District Astronomical Society holding a public star party, featuring their very own observatory. Tantalisingly, "refreshments" will be on sale. Specifics aren't given, but we can only hope for a killer cake / pie combination.
Across the pond and in the States, YourWestValley is advertising an astrophoto exhibition called ""Focus on the Universe: A Photographic Exhibit Celebrating the International Year of Astronomy". There are 35 images in total, enough to cover some of the most interesting phenomena out there in the depths of spaaaace. The accompanying picture shows a man who is *very* happy to be pointing at a picture of a nebula.
Congratulations to the 365 Days of Astronomy podcast, who have won the 2009 Parsec Award for the Best "Infotainment" podcast. And congratulations to Universe Today for covering this story. There were 50 nominated shows but 365DoA beat the competition to win first place. Is that the best picture they have of the trophy? Looks like they've laid it out flat on the carpet and snapped it with a mobile phone.
Finally, Shetland Times has a rather lovely walkthrough of the night sky for beginner stargazers. What to see and how to observe is discussed, along with a plug for Shetland Astronomical Society's IYA2009 activities. "Specifically this month, on the 21st, at the Asta Golf Clubhouse, there is an observing session be­tween 7pm and 10pm - remember to take your telescope or binoculars." It's not clear whether golf clubs are also needed.
Well, that's your weekly fix of news snippets. Remember to check local news outlets for non-English language stories.
Search IYA2009 Updates
---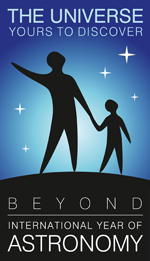 National Nodes: 148
Organisational Nodes: 40
Organisational Associates:33
National Websites: 111
Cornerstone Projects: 12
Special Task Groups: 11
Special Projects:16
Official Products:8
Media Partners:22