IYA2009 News Round-up
29 May 2009
Have you been wondering what kind of IYA2009 stories have been in the news over the past week? Read on to find out...
Roll up! Roll up! Get your Galileoscopes now! That's the message being given over at the Bad Astronomy blog (which despite the name is very good). These low-cost telescopes are shipping, so get your orders in as soon as possible to avoid disappointment. The message is being spread by the Asymptotia blog, too. Phil Plait, author of the Bad Astronomy blog recommends you donate some Galileoscopes to friends, schools, or kids in a "faraway land". Perhaps he gained inspiration from this story on the IYA2009 site.
Plait will also be in attendance for Kalmazoo's Astronomy Day, says mlive.com. Educator and actor Michael Francis will be portraying Galileo, complete with costume and telescope. It's hoped that he, along with other presenters, talks, planetarium shows, and a book signing from Plait, will attract at least 500 people. This story is in the section reserved for "Health, Religion, Food, Weddings, Engagements, Births, Anniversaries, & More." Presumably IYA2009 falls into the "& More" sub-category.
Incoming story from the Paisley Daily Express! Pupils from Gryffe High (UK) have been gifted with a free telescope. The instrument is a present from the Society for Popular Astronomy, and is intended to mark IYA2009. The new owners will use it to study the rings of Saturn and moons of Jupiter, as well as participating in a Moonwatch programme.
To California next, where a new astronomy exhibit has been very well received, says The Desert Sun. The La Quinta Museum is hosting "400 years of astronomy" to celebrate IYA2009. The exhibition includes large photos from the NASA/ESA Hubble Space Telescope, a 3D panoramic poster of a Mars rover, and other space artefacts. It's all on display until 30 September, so if you live in that area be sure to visit before then.
In these modern times it's easy to forget the traditional tales associated with the stars and constellations so it's good to hear from the Cape Breton Post about the 13th annual Cape Breton University Storytelling Symposium early next month. This year's theme is astronomy, in honour of IYA2009. Taking place in Sydney (Canada), Jim Hesser, Canada's IYA2009 Single Point of Contact, will be speaking to the assembled storytellers.
Still in Canada, let's give a plug to a star party set for Friday night at Win Del Park in Windham Centre. The Expositor has all the details, but for a quick overview here are the facts: celebrating IYA2009. Bring a torch. Eat hot dogs.
And finally, congratulations to the Hubble team on the successful Servicing Mission 4. An update has been given by Science Daily, which includes this lovely quote from David Southwood, ESA Director of Science and Robotic Exploration: "The addition of Hubble's renewed capabilities to those just brought to space by ESA's Herschel and Planck telescopes, launched last week, puts an impressive array of complementary and powerful tools at the disposal of scientists, and makes this a great moment for the International Year of Astronomy."
Search IYA2009 Updates
---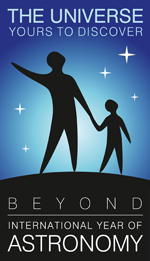 National Nodes: 148
Organisational Nodes: 40
Organisational Associates:33
National Websites: 111
Cornerstone Projects: 12
Special Task Groups: 11
Special Projects:16
Official Products:8
Media Partners:22