International Education and Resource Network (iEARN)
Single Point of Contact
Mrs. Halina Bednarz
M_K_I and iEARN/Poland; Asia Europe Classroom NET
ul. Kozanowska 107/9
54-152 Wroclaw
Poland

---
Highlights

Young Scientists *In the Cosmos*
Throughout 2009
Science and art activity for Asia-Europe students: studying the sky and exchanging knowledge, preparing a monument to the cosmos with online voting, identifying properties related to astronomy, and more.


From gnomon to...
Throughout 2009
Actions at school observatory open for visitors: sky observations in the school observatory using a telescope, outdoor observations, etc.

Planetary Path in the Beskidy Mountains
Throughout 2009
Description of the Planetary Path in the Beskidy.

Search IYA2009 Organisational Nodes
---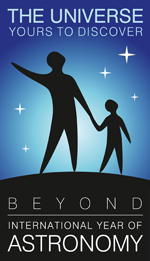 National Nodes: 148
Organisational Nodes: 40
Organisational Associates:33
National Websites: 111
Cornerstone Projects: 12
Special Task Groups: 11
Special Projects:16
Official Products:8
Media Partners:22