Two Small Pieces of Glass - A planetarium show for IYA2009
13 December 2008
Two Small Pieces of Glass - A planetarium show for IYA2009

The planetarium component of the History of the Telescope project is moving along and will be ready for distribution in late January of 2009. Two Small Pieces of Glass - The Amazing Telescope is being produced as both a traditional planetarium show and a digital full dome show. This program was announced back in 2007 in the June issue of the Planetarian, and I presented an update on it at the IPS Conference in Chicago this past summer.
You can see clips and get a synopsis of the show at
http://www.400years.org/planetarium.php
The show is 25 minutes in length and follows two students as they interact with a female astronomer at a local star party. Along the way the students learn how telescopes work, the history of telescopes, and major discoveries
made by these instruments. Imiloa Astronomy Center, Buhl Planetarium at the Carnegie Science Center, and Interstellar Studios have partnered on this program. Mirage IIID is providing computer graphics, animations, and compositing the program. The soundtrack was recorded by the London Symphony Orchestra.
The traditional dome version will be distributed free to all International Planetarium Society (IPS) members on DVD's containing still images (for slides, all-skies, and panoramas), video clips for standard video projectors, audio, script and production notes. You must be an IPS member by January 5th to receive this program!
The digital full dome program will be made available to IPS members for a small cost of hard drives/remastery. The expected price is $300-1000 US for a permanent license. To receive this version of the show, you can sign up at the website above, and in early January you will be contacted with the final price. Domemasters will be distributed at 1K, 2K and 4K resolution.
NOTE: You must be an IPS member to be eligible for this program!
If you have any questions about the program, please feel free to contact Shawn Laatsch (slaatsch@imiloahawaii.org) or James Hughes (HughesJ@carnegiesciencecenter.org).
Shawn Laatsch
Planetarium Manager & IPS Treasurer
Imiloa Astronomy Center of Hawaii
600 Imiloa Place
Hilo, HI 96720
Ph. +1 (808) 969-9735
Fax +1 (808) 969-9748
Email: slaatsch@imiloahawaii.org
www.imiloahawaii.org
www.ips-planetarium.org
Search IYA2009 Updates
---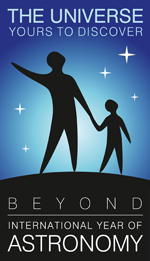 National Nodes: 148
Organisational Nodes: 40
Organisational Associates:33
National Websites: 111
Cornerstone Projects: 12
Special Task Groups: 11
Special Projects:16
Official Products:8
Media Partners:22