A Scale Model of our Solar System
13 July 2010
The solar system is a really big and empty place. It's so big and empty that it's difficult to create a scale model where both the sizes of the planets and their orbits are correct. For example, if we scale Pluto down to about as small as we can go, let's say 1 mm in diameter, then the Sun at the same scale would be about 60 cm across. The surprising thing is that at this scale, the distance between the Sun and Pluto would be 2.5 km!
http://www.umanitoba.ca/observatory/outreach/solarsystem/index.html
This webpage provides a tool for visualizing the solar system at various scales. You pick a size for the Sun, and all the planets and their orbital distances are scaled according to this value. The orbits are then overlaid on a map that is centred wherever you like (maybe your school or your house or a landmark in your city). We start you off with a map of Winnipeg (because that's where this website is based!), but you can change this to any location by entering the coordinates or by zooming out and panning around.
Search IYA2009 Updates
---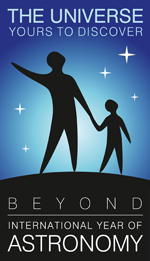 National Nodes: 148
Organisational Nodes: 40
Organisational Associates:33
National Websites: 111
Cornerstone Projects: 12
Special Task Groups: 11
Special Projects:16
Official Products:8
Media Partners:22