Archaeoastronomy and ethnoastronomy: building bridges between cultures
6 July 2010
Ninth "Oxford" International Symposium on Archaeoastronomy
The "Oxford" symposia are the foremost international conferences in the interdisciplinary field of archaeoastronomy, attracting leading researchers in fields such as astronomy, anthropology, archaeology, history, museum studies, surveying, statistics, and the history of religions as well as the history of science and astronomy.
The ninth "Oxford" International Symposium on Archaeoastronomy will be held in Peru in January 2011, the first time this event has been held in South America.
Oxford IX will focus upon topics such as methodological and theoretical issues in cultural astronomy, ethnographic and historical approaches, regional syntheses, and cultural astronomy as a tool for breaking down barriers in society.
The main Oxford IX conference will take place in Lima from Jan 5 to Jan 9, 2011. There will be a half-day excursion in the middle, and a variety of other social events are planned. Afterwards there will be a two-day excursion to sites in the Casma area of northern Peru, including the now-famous Chankillo, whose thirteen towers have been hailed as a solar "observatory".
A regional meeting, featuring tutorials and workshops, will be held in the vicinity of Cusco starting on Jan 13. This will focus on South America and aims, in collaboration with SIAC, to support and encourage the development of cultural astronomy throughout the continent.
Invited keynote speakers at Oxford IX include Gary Urton, Dumbarton Oaks Professor of Pre-Columbian Studies at Harvard University, who is well known for his work on the Andean knotted string devices known as khipu, and George Miley, IAU Vice President for Education and Development, who is spearheading the IAU's initiative to use astronomy to stimulate sustainable development in the developing world.
The Scientific Organising Committee for Oxford IX includes internationally renowned specialists from a variety of academic disciplines, based in a variety of countries from all five continents. The Local and Regional Organising Committee includes representatives from Peru, Argentina and Brazil. The Oxford symposia are supported by the International Society for Archaeoastronomy and Astronomy in Culture (ISAAC).
More information: http://www1.archaeoastronomy.org/index.php?option=com_content&view=article&id=16&Itemid=19&lang=en
Search IYA2009 Updates
---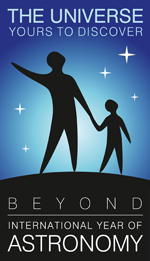 National Nodes: 148
Organisational Nodes: 40
Organisational Associates:33
National Websites: 111
Cornerstone Projects: 12
Special Task Groups: 11
Special Projects:16
Official Products:8
Media Partners:22