Space and Time 2
9 June 2010
Cidadania presents Space and Time 2

Staatstheater Darmstadt, Germany 15 October 2010.
What is cidadania?
a work group of artists, scientists and other scholars from germany, portugal, poland, russia, Ukraine and the U.S.A.,who writes and performs interdisciplinary events combining art with science.
What is Space and Time?
It combines live music with video projections, theatre and dance. It takes the audience on a 60-minute journey through the world of astronomy, reflections on issues of human self-perception, environmental degradation, space debris and the future of our planet and life as we know it. a play written for the International astronomy year 2009 and world space wek 2009, which was presented in several Theaters around the world, with premiere in the United Nations in Vienna in October 2009.
More information: http://www.cidadania-darmstadt.info/CIDADANIA3.html
Search IYA2009 Updates
---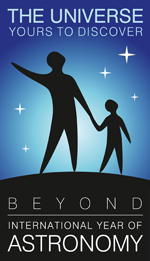 National Nodes: 148
Organisational Nodes: 40
Organisational Associates:33
National Websites: 111
Cornerstone Projects: 12
Special Task Groups: 11
Special Projects:16
Official Products:8
Media Partners:22