The Search for Life in the Universe in Science Fact and Science Fiction
7 June 2010
August 13 - 15, 2010
Hyatt Regency Hotel, Santa Clara, California

Only $20 per day or $35 for a weekend pass.

Go to http://www.seticon.com for more information and tickets.

Space is limited! Tickets are available on a first-come, first-served basis!
______________________________________________________________________________

SETIcon features:


Noted scientists explaining new developments in everyday language
Stars of science fiction TV series and movies, plus the advisors who help with the science
Panels to air controversial issues and compare perspectives
Special sessions where you can ask questions of your favorite guests in a smaller setting
A family room with hands-on activities (for kids 12 and older)
An inflatable star theater like the one the Obama family enjoyed during the recent White House star party
Some of the
confirmed guests
so far:
Apollo astronaut Rusty Schweickart, on saving the Earth from asteroid impacts
Frank Drake, the astronomer who undertook the first project to listen for alien radio messages
Jill Tarter, the SETI scientist on whom Jodie Foster's character in Contact is based
Michael Brown, who discovered several large worlds beyond Pluto and whose work helped kick Pluto out of the planet club
Seth Shostak, SETI Scientist and the host of the "Are We Alone" radio program
Debra Fischer, one of the top planet hunters in the world, co-discoverer of the first system of planets around another star
Astronomer and California Professor of the Year Andrew Fraknoi on the "Top 10 Tourist Sights in the Solar System"
Tim Russ, Star Trek actor and amateur astronomer
Kevin Grazier, scientist on the Cassini Mission and science advisor for Battlestar Galactica
David Morrison of NASA on "Doomsday 2012" and the new notion of "cosmophobia" -- fear of the skies
Astronomer Alex Filippenko, who helped discover the dark energy that is speeding up the universe
Award-winning science fiction writer Robert Sawyer
Gibor Basri, world-renowned expert on brown dwarfs (failed stars)
Margaret Race, one of the scientists working to protect Earth from alien microbes and other planets from Earth microbes
Best selling writer Mary Roach, author of the forthcoming "Packing for Mars: The Curious Science of Life in the Void"
Cosmologist Sean Carroll, author of "From Eternity to Here: The Quest for the Ultimate Theory of Time"
Jennifer Ouellette, Director of the Science & Entertainment Exchange, fostering creative collaborations between scientists and the entertainment industry
Make contact at SETIcon with other fans of science fact and science fiction in a comfortable setting. It will be a weekend when science and the imagination meet! Enjoy a wide range of mind-expanding activities, an evening party, lots of time for discussion, plus a banquet where you can rub elbows with the speakers and other enthusiasts. The banquet will honor Dr. Frank Drake on the occasion of the 50th anniversary of the first search for radio signals from extra-terrestrial civilizations. See the web site for full information.
Search IYA2009 Updates
---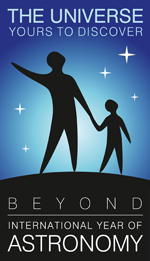 National Nodes: 148
Organisational Nodes: 40
Organisational Associates:33
National Websites: 111
Cornerstone Projects: 12
Special Task Groups: 11
Special Projects:16
Official Products:8
Media Partners:22