International Polar Year: Above the Poles
27 November 2008
International Polar Year: Above the Poles
Live Event!

Joining these events is simple: you just need a computer with internet, speakers, and a microphone [optional]; or a telephone. During the event, participants of all ages are encouraged to ask questions, via voice or text chat, of experts in polar atmospheric science, meteorology, astronomy, and polar observing systems.
The events last about an hour, and allow lots of opportunity to ask questions. In fact, it's all about interaction and dialogue! The events are open to a broad audience, from primary school students through to high school scholars, teachers, undergraduates, and interested public. We also welcome english language classes. The broader the audience, the more interesting the event!
We encourage classes joining the events to research the topics beforehand, and maybe prepare some questions. Please browse these pages for background information, andlearn about the scientists joining these events .
These events occur in conjunction with the International Year of Astronomy 2009.
European Event

Download Flyer (PDF)
December 4th, UTC 1000 corresponds to:
Alaska 0100, NYC 0500, Chile 0700, Sao Paolo 0800, UK 1000, Europe 1100, Cape Town 1200, Moscow 1300, India 1430, China 1800, Sydney 2100, NZ 2300.
Hosted by: Liz Murphy Global Media
Topics: Looking Up; Weather, Atmosphere, and Space
Explore the regions above the snow in Antarctica and the Arctic. We will connect live to a meteorologist in Antarctica, atmospheric scientists in the UK, and astronomers. We will also connect to classes gathered at the Scott Polar Research Institute in the UK.
How to Participate: Contact Rhian Salmon to join this event, or for more information.
If participating, please download these Participant Instructions to test the software and familiarise yourself with the system a few days before the event.
Presenters:
Weather and Atmosphere:
Ags Fryckowska & Tamsin Gray, Meteorological Observers, LIVE FROM ANTARCTICA
Helen Atkinson, Polar Atmospheric Chemist
Eric Wolff, Polar Atmosphere and Climate Expert
Astronomy:
Michael Burton, Polar Astronomer
Pedro Russo, International Year of Astronomy
Satellite Observations:
Mark Drinkwater, GIIPSY [Global Inter-Agency IPY Polar Snapshot Year]
Search IYA2009 Updates
---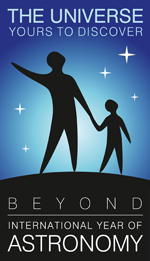 National Nodes: 148
Organisational Nodes: 40
Organisational Associates:33
National Websites: 111
Cornerstone Projects: 12
Special Task Groups: 11
Special Projects:16
Official Products:8
Media Partners:22