Sidewalk Marathon in Erding, Germany
27 April 2010
On Friday 24 April 2010, the town of Erding near Munich in Germany began a star party with an exhibition with the local fine art club on the topic "the Tower of Babel". Two hours later, EurAstro's President Jean-Luc Dighaye kicked off an incredible Astronomy Marathon. At around 16:00, his Coronado started duty in the middle of the "Schranneplatz", initiating a queue of people waiting in the line which disappeared only eight hours later as the exhausted organisers collapsed under the demand!
Twilight inevitably meant that EurAstro's device had to be replaced with standard telescopes. These were used to first to look at the Moon, and later Saturn with its moons, Mars, and the Beehive cluster. Passers-by each enjoyed an estimated average 30 second look in one of the four 'scopes. Organisers estimate that 1500 persons, mostly astronomy novices, enjoyed the beauty of the Universe. A definitive driver for the success was a parallel running music festival, but the enlightenment through astronomy was definitely a point of culmination!
The event was organised by the Erding Sidewalk Astronomers (ESA). This time the team was comprised of Annemarie Sartini, who designed the logo and connected us to the fine art people, Michael Eichelmann who made the handovers and the posters, Markus Jaksch who managed to serve two telescopes, Christophe Claude who ran overall trying to give unity to the chaos, and guest star Jean-Luc Dighaye, ESA Godfather and solar starter.
--
Report by Dr. Christophe Claude
Visit EurAstro's website here: http://www.eurastro.de/
Search IYA2009 Updates
---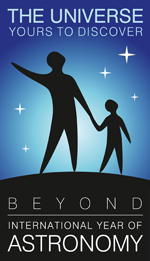 National Nodes: 148
Organisational Nodes: 40
Organisational Associates:33
National Websites: 111
Cornerstone Projects: 12
Special Task Groups: 11
Special Projects:16
Official Products:8
Media Partners:22