Report of JENAM 2008
17 November 2008
Report of JENAM 2008; Symposium 2: Education and Communicating Astronomy in Europe - Preparing for the IYA2009
By Ian Robson (eir@roe.ac.uk)
Thursday September 11th
Dr Catherine Cesarsky, the IAU President, gave an invited Plenary Address to the Conference outlining the aims and goals of IYA2009 along with the organisational bodies and major milestones. This was followed by Pedro Russo who described the cornerstone events and showed the IYA trailer. This was followed by Thomas Posch, the Austrian SPoC, who gave an overview of the work in Austria, focusing on the dark sky inspiration theme. Interestingly enough, Austria have managed to get a locomotive with the IYA2009 banner on the side. This session was followed by a Q&A from the audience. The session was well attended with probably over 200 in the audience.
There was a very pleasant working dinner on the Thursday evening attended by most of the SPoCs and swapping ideas and barriers. This was organised by Thomas Posch.
Friday Sept 12th
This was the education session and the first speaker was Rosa Ros who talked about Astronomy in European schools after the impact of IYA2009. She used a survey from across Europe to fashion new ideas about how IYA can contribute to the new curriculum and teaching. This was followed by Magda Stavinschi who discussed how lessons of the investigations of the past can prepare us to look at the future and why this is a good tool to engage students in astronomy and the excitement therein. Charles Barclay then discussed the educational work he undertakes in and around Oxford and pointed out that it is inspiration that is crucial to changing attitudes. He also discussed an 'Extended Project' pilot project that gives astronomy accreditation. Finally, Sotira Trifourki presented a wide-ranging description of a number of educational initiatives around the Manchester area and also feeding into UNAWE.
Friday Sept 12th 10:45-11:15
The outreach session began with a series of ten minute talks from the national SPoCs. Ian Robson got the ball rolling by outlining the activities that were planned for the UK. This was followed by Montse Villar-Martin from Spain, Joao Fernandes from Portugal and Anny-Chantel Levasseur-Regourd from France. There was then an extensive Q&A session where a number of points seemed to strike home: need to remember the poor weather in northern Europe for 100 hours of astronomy and should an autumn slot also be thought of; not to forget the underprivileged in society and to work to be inclusive. Gary Evans then reviewed the FETTU prototype exhibition that was showcased at the ASTRONET Symposium in Liverpool. Terry Mahoney reminded us that we should not forget the great work undertaken by Kepler, especially his work on optics. Finally, David Koch presented the outreach activities associated with the Kepler Mission. These two sessions had audiences of around thirty.
Search IYA2009 Updates
---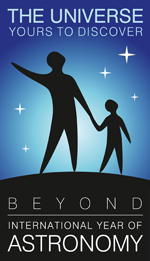 National Nodes: 148
Organisational Nodes: 40
Organisational Associates:33
National Websites: 111
Cornerstone Projects: 12
Special Task Groups: 11
Special Projects:16
Official Products:8
Media Partners:22