Online Messier Marathon Began on April 5
5 April 2010
On April 5, at 18:00 UT, the Bellatrix Observatory in Italy started the online Messier Marathon, a journey with no less than 110 stops—one for each of the deep sky objects from Charles Messier's famous catalogue. Everyone is invited to join the Marathon and observe the fantastic views of these objects right from their computers.
You will see:
A supernova remnant in the constellation of Taurus: The Crab Nebula (M1),
An open cluster of stars in the constellation of Scorpius: The Butterfly Cluster (M6),
A spiral galaxy at approximately 3 million light years distance in the constellation Triangulum: The Triangulum Galaxy (M33),
A spiral galaxy in the Coma Berenices constellation, which has a spectacular dark band of absorbing dust in front of the galaxy's bright nucleus: The Black Eye Galaxy (M64),
An unbarred spiral galaxy in the constellation Virgo whose dark dust lane and the bulge give this galaxy the appearance of a sombrero: The Sombrero Galaxy (M104),
…and 105 other amazing deep sky objects—all just a few clicks away.
To participate in the Messier Marathon, go to:
http://virtualtelescope.bellatrixobservatory.org/mm2010.html
Search IYA2009 Updates
---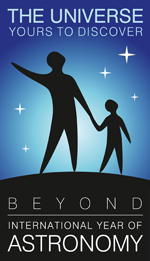 National Nodes: 148
Organisational Nodes: 40
Organisational Associates:33
National Websites: 111
Cornerstone Projects: 12
Special Task Groups: 11
Special Projects:16
Official Products:8
Media Partners:22