New Year's Eve: Pulsar Countdown
17 November 2008
We are working on a program to mark the beginning of IYA using a pulsar as a clock to count down to the moment of midnight on 31 December.
The pulsar would be observed with the Parkes radio telescope in Australia, and a display of the signal sent to locations in Australia.
We would be able to make the signal available, at standard videoconferencing resolution, to up to 10 other countries: you would simply dial into a mcu unit as if you were running a videoconference.
For further information please contact:
Helen Sim
Public Relations and Media Liaison
CSIRO Australia Telescope National Facility (email: Helen.Sim@csiro.au)
and
Anglo-Australian Observatory (email: hsim@aao.gov.au)
Single Point of Contact (SPOC) in Australia for the 2009 International Year of Astronomy
Tel: +61-2-9372-4251
Mob: +61-419-635-905
Search IYA2009 Updates
---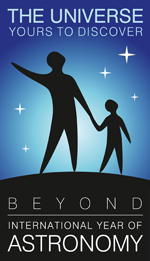 National Nodes: 148
Organisational Nodes: 40
Organisational Associates:33
National Websites: 111
Cornerstone Projects: 12
Special Task Groups: 11
Special Projects:16
Official Products:8
Media Partners:22