Young Irish stargazers bring telescope to Tanzanian peers
22 February 2010
Last year was the International Year of Astronomy (IYA2009). The year saw members of the public join astronomers to gaze at the stars and let themselves be inspired by the mysteries of the universe. While some events lasted just a few nights, a special initiative of Blackrock Castle Observatory (BCO) and Cork City Council in partnership with Cork Printmakers will have a lasting impact in the minds of young children in Cork and in the Arusha region of Tanzania. "Capture the Cosmos" was organised under the umbrella of the international Universe Awareness (UNAWE) programme, one of the IYA2009 cornerstone projects whose mission is to 'broaden young children's minds with the scale and beauty of the universe'.
For several days, pupils of four Cork primary schools learnt about astronomy and art and how to use various printing techniques. They created beautiful works of astronomical art, which were then exhibited and auctioned by NASA astronaut Dan Tani to raise funds for the Universe Awareness programme in Tanzania. "The pupils really enjoyed learning so much science while being creative," says Clair McSweeney, of BCO. Some of the lucky owners of the artworks include the astronaut and officials of Cork City Council.
The money raised was used to acquire a telescope for the UNAWE programme in Tanzania. The telescope has now just been delivered. "Professional astronomy is an international endeavour. It is wonderful to see young people partner up internationally like this as well," says Dr. Carolina Ödman, manager of Universe Awareness.
The arrival of the 6-inch telescope is welcomed by the Tanzanian team. "The project is about more than entertainment, even if fun is at the heart of it. Astronomy is a source of inspiration for kids to acquire knowledge about the universe and consider careers in science," says Mponda Malozo from UNAWE Tanzania. He leads a team of astronomy and engineering students who started off with outreach activities in five primary schools in the rural Arusha region in Tanzania. Dr. Geoffrey Karugila, a professor at their university called their volunteer work "superb". The team writes, "the motivation behind this project is an awareness of the urgent need for skilled scientists in the country."
Fun was certainly shared between the pupils in Cork and in Tanzania, who will soon meet virtually over the internet and discuss the moon, planets and stars and dreams of a future that will perhaps bring them together in unravelling the mysteries of the universe. Meanwhile, the work of BCO and UNAWE Tanzania continues, as more schools and more young people are drawn to the stars.
More information: www.unawe.org
Search IYA2009 Updates
---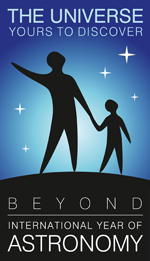 National Nodes: 148
Organisational Nodes: 40
Organisational Associates:33
National Websites: 111
Cornerstone Projects: 12
Special Task Groups: 11
Special Projects:16
Official Products:8
Media Partners:22