Happy birthday, Galileo!
15 February 2010
Galileo Galilei was born on 15 February 1564. 2009 was the 400th anniversary of his worldview-changing telescopic observations and discoveries, and it is this fact which led it to be declared the International Year of Astronomy. Galileo has been called the "father of modern observational astronomy", the "father of modern physics", and "the Father of Modern Science". Without his contribution to astronomy and science, the world in which we live today would seem very different.
All IYA2009 supporters are asked to join together in wishing this astounding figure a very happy birthday!
Search IYA2009 Updates
---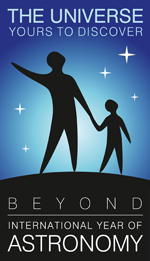 National Nodes: 148
Organisational Nodes: 40
Organisational Associates:33
National Websites: 111
Cornerstone Projects: 12
Special Task Groups: 11
Special Projects:16
Official Products:8
Media Partners:22