Astronomy enthusiast creates IYA2009 coin website
8 February 2010
IYA2009 supporter Prasanna Deshapriya ("Desh"), an amateur astronomer based in Colombo, Sri Lanka, has been fascinated by coins since his childhood. He was browsing astronomy2009.org and saw a note from the IYA2009 Secretariat, calling for coin-experts to assist in cataloguing the many astronomy-related coins that have been released during the year. Seeing an opportunity to combine his interests, Desh decided to undertake this task and create a comprehensive website containing information on the year's IYA2009-inspired coins.
Says Desh, "there was not a proper source to get the exact information regarding all the IYA2009 coins. Therefore I hit on the idea of devoting myself to the course of gathering all the details of coins / numismatic material that have been issued in commemoration of IYA2009 from different parts of the planet. I scanned over many international and local sites plus Ebay and famous numismatic archives. Then I made a website that features the IYA2009 coins, so that without hassle, anyone could easily find and enjoy the picturesque beauty as well as the priceless value of these souvenirs that IYA2009 has left behind."
So far, more than 20 different coins issued from 12 countries / states have been tracked down and documented. Australia, Austria, Canada, Czech Republic, Germany, Hungary, Italy, Malaysia, Republic of San Marino, Romania, Ukraine, and Vatican City have all issued numismatic material for IYA2009.
So does Desh have a favourite? Yes: " It's the Austrian IYA2009 coin."
See the website here: http://iya2009-coins.blogspot.com/

If you know of a coin that has been omitted, please contact Desh via e-mail: jdpdesh@gmail.com
Desh also runs a blog dedicated to IYA2009 and Beyond IYA2009 in Sri Lanka: http://iya2009sl.blogspot.com/
Search IYA2009 Updates
---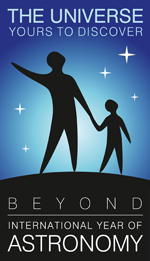 National Nodes: 148
Organisational Nodes: 40
Organisational Associates:33
National Websites: 111
Cornerstone Projects: 12
Special Task Groups: 11
Special Projects:16
Official Products:8
Media Partners:22